It's National Sausage Month: 3 Ways to Pleasure a Sausage
It's National Sausage Month: 3 Ways to Pleasure a Sausage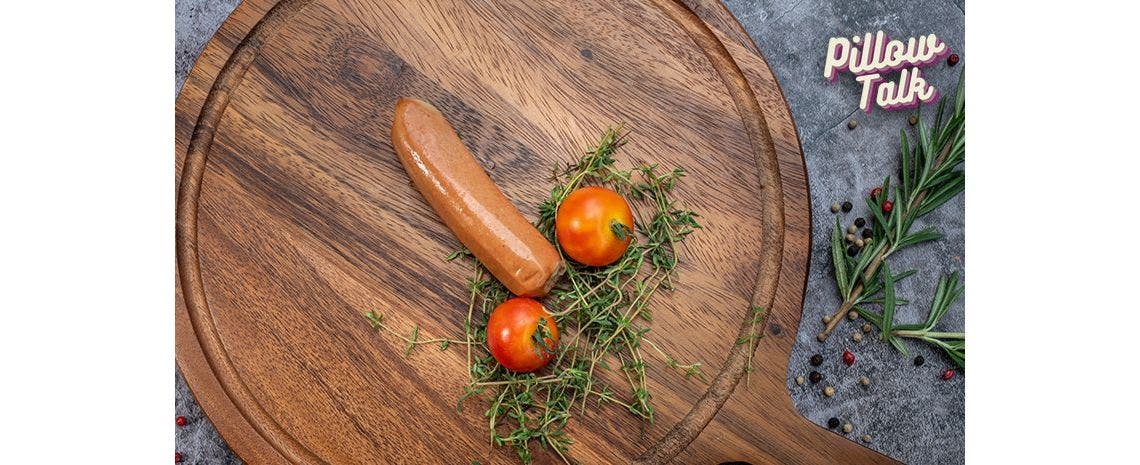 If you didn't know, it is National Sausage Month, and though we are pretty sure the creators of this month meant the type of sausage you put into a red pasta sauce, we are open to different interpretations so we are celebrating National Sausage Month for the sausage that provides a bit more pleasure if you know what we mean. Since it is National Sausage Month we should probably explore ways to pleasure and stimulate the sausage, with your mouth, hands, and other body parts.
With your mouth
Oral stimulation of a sausage is a very common activity, but there are a few tips to level up the experience. If you need some help with the wetness of oral stimulation flavored lube or Flintt Mints are going to be your secret weapons. To add some different stimulation to your oral, you should try humming or moaning or even adding in some vibration by holding a vibrator, like the Je Joue Amour, to your throat. If you really want to blow your partner's mind, my number one trick is dragging the tip of your tongue along the vein on the back of the shaft of the penis as you go up and down with your throat. It is highly stimulating for the receiver and will have their toes curling in pleasure.
With your hands
Hand jobs may seem so middle school, but manual stimulation of the penis is an art form. If you are trying to give a hand job a whirl the first thing you are going to want to do is make sure your hands are moisturized and soft (unless the person receiving enjoys a rough hand). To help with this make sure to wash your hands with moisturizing soap and apply lotion afterwards. And though your hands will be nice and soft lube should still be present for a hand job. I would recommend a silicone lube, like Uberlube, as it is longer-lasting and has a slicker feel. When giving a hand job don't just focus on one part of the penis, every part deserves some time and attention. Give the head of the penis it's time to shine, the shaft deserves rub down, and the balls need their fun as well. Using both hands at the same time can help you stimulate different parts at the same time.
With other body parts (feet & boobs)
If you are feeling really adventurous stimulating the penis with less traditional body parts can be highly erotic. You can stimulate the penis with the breasts as well as the feet. If you are using either of those body parts, it is important to be sure to use lube as neither part is self-lubricating. Position of bodies is important for titty fucking or foot jobs. Laying on your back while your partner is seated on top of you is a great way to engage in titty fucking. If you are wanting to add a little extra oomph, laying on your back and then having your partner sit on your face with their butt on your mouth and their penis between your tits allows you to add some anal stimulation to penile stimulation. If you are trying to give a foot job having them seated in a chair and then laying on your back with your legs in the air at the height of their waist can be a comfortable position.
There are so many different ways to stimulate the sausage, all you need is a little creativity. If you try any of these options just focus on having fun and if they don't do it for you or your partner that is okay, you gave it a try. If you need a little more help in terms of your technical skills for blowjobs, you should read up on The Art of the Blowjob. Now go and enjoy the rest of National Sausage Month!