6 Positions to Try During Anal August
6 Positions to Try During Anal August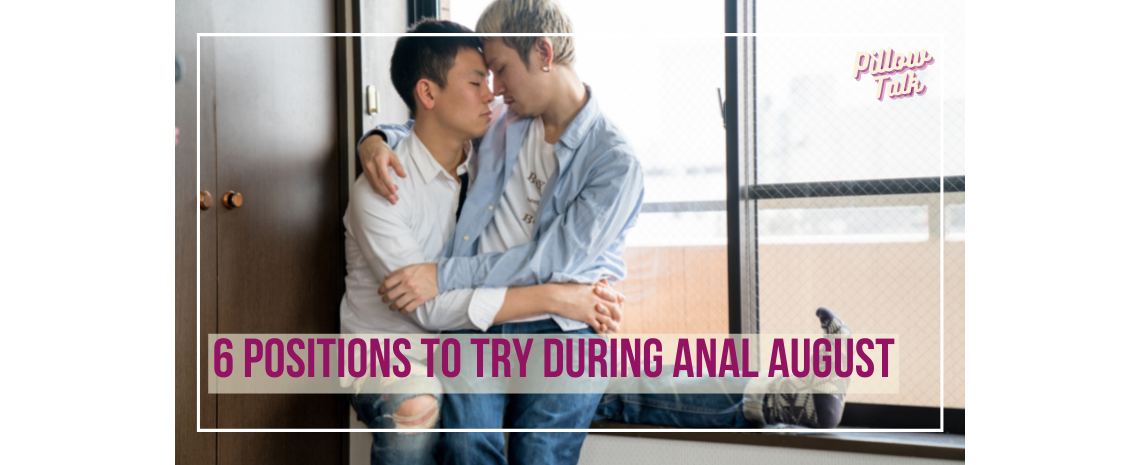 6 Positions to Try During Anal August
Different positions to try this month
It's Anal August, a month all about anal play. Your mind may have gone immediately to penetrative anal play, such as pegging or anal sex, but there are many ways to engage in anal play and a wide variety of positions to add to the pleasure. Changing up your anal positions can open you up to new and heightened experiences of pleasure, so here are six different positions for you to try out this month.
Positions for Oral Anal Play
The Oyster
A modified oyster (or Viennese Oyster) is a great position for oral anal play. In this position, the receiving partner will be on their back and have their legs up and back towards their head. This will give their partner free rein to devour every inch of your taint for their pleasure and yours. I highly recommend stretching before this position as it is a doozy on the muscles if they aren't prepared for it.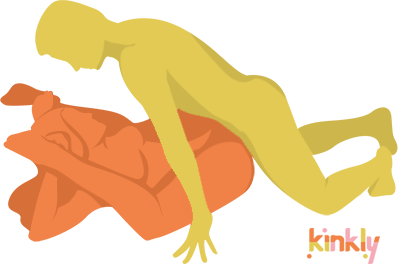 The Munch
The munch is similar to 69, but instead of being on top of each other, stimulating each other's genitals, the giving partner is lying on their back, and the receiving partner is lying on their back on top of their partner with their legs open around their partner's head. This position is great for relaxing your body fully. It also gives your partner more control in moving your body as needed and desired. They can pull your butt closer to their face, raise or lower your hips, and flip you over into other positions as things progress.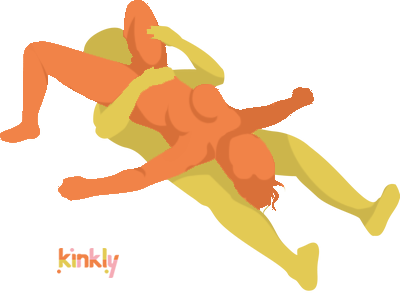 The Tent Pitch
The tent pitch is personally one of my favorite oral anal positions. For this one, the receiving partner bends over into a downward dog, into an A shape, and then depending on their partner's height, they will kneel or stand behind to go to town and eat the booty like groceries. This position is a good option for a little mid-day snack. If you enjoy sundress season with no underwear or just roaming the house in a robe, you can easily have your tent pitched and ass eaten when the mood strikes.
Psst: we couldn't find a good image for the "tent pitch"; however, it is similar to the "Butler" position (image to your left), only in the tent pitch, the receiver is bent over to make an "A" shape with their body.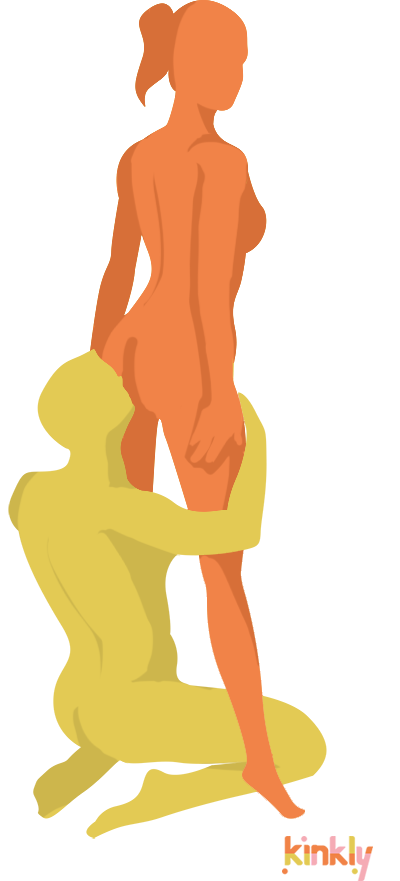 Positions for Penetrative Play
The Plough
This option is a little more advanced, so if you aren't ready for acrobatics, maybe table this further down the line. The Plough is great because it allows for better access to the anus without too much finagling of the body, though it does require a workout since the person on the receiving end is holding their body weight on their forearm. If you and a "swolemate" want to skip going to the gym but want to still have arm day give this position a try.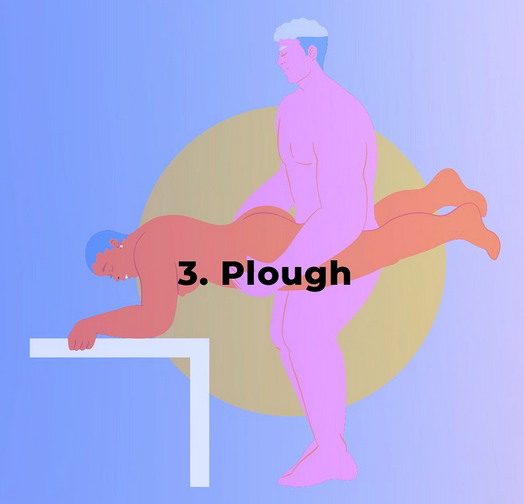 The Cradle
The cradle is a great anal position for deeper intimacy during anal sex. The partner receiving is essentially sitting on their partner's lap with their legs crossed behind them. This position is really good for the receiving partner to be in control in terms of movement. Using your hips, you can manage how fast you and your partner are going and how deep. It also allows for deeper intimacy as you can easily stare lovingly into your partner's eyes.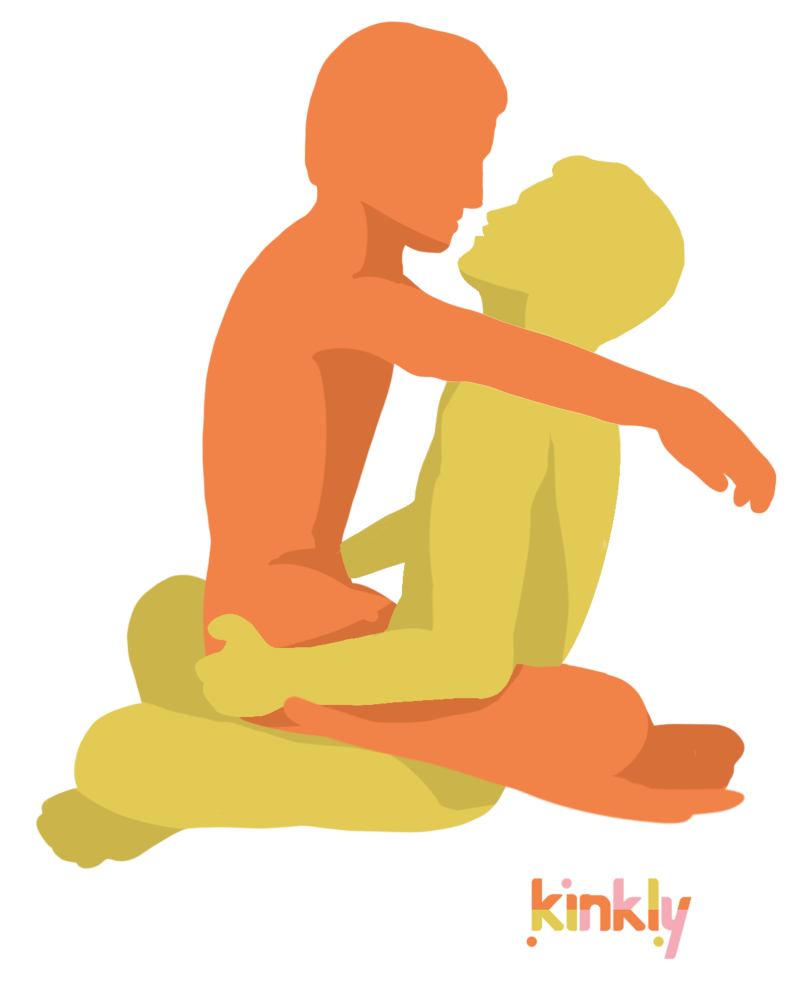 The Turtle
The turtle position is excellent if you want to heighten your sexual experiences. This position allows for added stimulation with easy reach to the clitoris or the balls, or by adding a sex toy like a bullet for vibration. In this position, the giving partner also has an opportunity to control the receiving partner's hips allowing for an elevation of the stroke game.
Regardless of what position you and your partner choose to get into, remember the important details of anal play.
Always have lube! The anus is not self-lubricating, so having lube at the ready is extremely important.
Anal training is a must. The anus is a muscle, and you can't just jump straight to penetrative play with a dildo or penis without having relaxed and stretched the anus muscle. Work your way up in girth.

And lastly, take it slow. It's a marathon, not a sprint, regarding anal play. Taking your time and listening to your body and your partner is crucial for an enjoyable and pleasurable anal experience.