How to Talk to Your Partner about Anal Sex
How to Talk to Your Partner about Anal Sex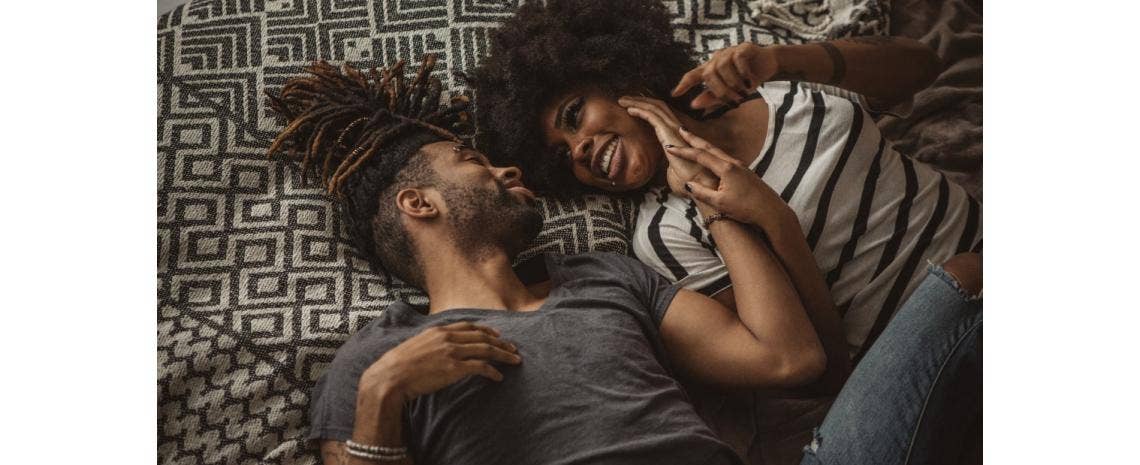 How to Talk to Your Partner about Anal Sex
So, you've decided that you're open to the idea of anal pleasure.
There are a number of ways you can achieve anal pleasure all by yourself, but if you have a partner you'd like to try anal sex with, you have to get them on board as well.
Bringing up anal sex can feel intimidating. Despite the large cult following of people who love anal sex, its still got a reputation for being taboo which makes people more hesitant to bring it up.
Let us assure you that anal sex can be great for anyone, no matter who you are. Men, women, and people of all genders can get pleasure from pegging, rimming, or any other kind of penetrative play as either the receiver or performer. Like every other form of sex, it's meant to be fun.
And if you'd like some tips for pitching anal to your partner, keep reading.
Talk With Your Partner Beforehand:
Be honest with your partner about what you want to try. Odds are that your partner can't read your mind, and the only way they're going to know that you want to try anal is if you tell them.
Try catching your partner in a good mood when they have time to talk and let them know what you're thinking. Approach this conversation with a collaborative attitude. Instead of just telling your partner you'd like them to do something to you or you'd like to do something to them, phrase your invitation to try anal as something you would like to try together.
Kaitlyn Vanger writes for Bustle, "Remember that anal play is a mutual sex act, and your partner should be just as into it as you are before you head right in. Also, starting a sentence by stating your needs first can put pressure on your partner, which is never acceptable."
We totally agree. You're offering your partner a new aspect of your partnership. They have to be on board if you're going to proceed.
If you're looking for another way to bring up the topic, you could try asking if they have any fantasies and begin a conversation about different things you'd like to explore with each other. Your partner might be thinking about anal too, and has just been waiting for the right opportunity to say something. Your partner might also have a totally different fantasy they'd like to explore with you. This conversation opens a line of communication about new things you'd both like to try, which is always a good thing.
Give Them Something to Think About:
If you don't want to immediately bring up anal sex, or you'd like to work your way up to it, you could suggest bringing anal toys into the bedroom. Fingering, or even the use of a butt plug, is a lot easier of a starting place than penetrative anal sex.
Also, purchasing an anal safe toy and gifting it to your partner is another great way to bring up the fact that you'd like to try anal sex. Make it clear that they're under no pressure to use it on themself or you (it all depends on what you're going for). They might not be into it, or it might take them some time to warm up to the idea, but having a concrete first step on hand might bring you closer to anal sex.
Anal sex requires a fiar ammount of prep work, as the anus is less maleable than other sexual orifices. It takes time to build up the muscle strength and tolerance to find anal sex comfortable.
Kaitlyn Vanger also writes, "You can make anal prep into a fun couples activity by heading to your local sex shop and picking out butt plugs and anal beads. Both of these toys will help relax your partner's anus before sex, which will put your partner's mind at ease and enhance the experience for both of you."
The B-Vibe Anal Training Set comes with three butt plugs of varying sizes with different vibrating functions. They're discrete and comfortable, so you can keep them in for extended periods and wear them anywhere. Try them in the bedroom, or try wearing one around the house (or even out of the house) for an adventure you can go on all by yourself.
Anal beads are also great for people looking to try anal stimualtion and work their way up to more intense forms of anal penetration. The beads increase in size, allowing you to stretch and build your flexibility. Curious Bottom Line Silicone Beads are a great starting place for your anal adventure.
If you're serious about trying anal sex, whether you want to be on the receiving end or want to give your partner a good time, we strongly recommend that whoever is going to be the recipient gets warmed up before you move on to actual sex. According to a survey on anal intercourse conducted by PubMed, "less than a third (27.7%) of participants who regularly engaged in anoreceptive intercourse in the past 12 months stated that they rarely or never experience pain/discomfort with the practice." This does not have to mean actual anal sex. A buttplug, anal beads, or fingering are all great ways to build up your anal stamina.
Be Willing to Try it Out Yourself:
One of the most memorable scenes on Keeping Up with the Kardashias was when Scott Disick, Kourtney's former partner, continuously tried to convince Kourtney to "let him in through the backdoor." In response, Kourtney jokingly bought a strapon, telling Disick that if he wanted to try anal sex he'd have to bottom first. And while this scene was certainly meant for comedy, somewhere in there is a good idea.
First and foremost, don't try anything you're not comfortable with. However, it's generally not good practice to try to talk someone into doing something you yourself won't try. One of the best ways to learn what you're doing is learn how it's supposed to feel, or at least how it feels at all.
Before initiating a conversation with your partner about anal sex, try some anal play out yourself and see what all the fuss is about for yourself. This way, you'll understand what it feels like and be able to better talk your partner through what they might feel if they decide they want to try it out as well. Also, you might discover that you enjoy being on the receiving end.
Knowledge, after all, is power. So learn as much as you can about anal sex beforehand.
Be Alright With a NO:
We've laid out some great tips on how to bring up anal with your partner, but you're still not guaranteed a go-ahead on anal sex. Some people just don't have any desire to try anal sex, and that's okay. It's not for everyone.
Consent is key in all aspects of sex, but if anything needs multi-factor authentication, it's anal. While it can be an outstanding source of pleasure, it can also be uncomfortable and even painful. You absolutely must make sure that your partner is ready and willing to be penetrated.
Your partner is free to retract their consent at any time, but they're also free to decide that they would like to try anal after all. Never pressure your partner into anything. Give them space and time to think about if they'd lie to try anal. If it doesn't sound appealing to them at the moment, it is possible that their "no" one day could turn into a "yes" the next. Whatever they say, respect it.