10 Ways to Make Your Vacation Hot AF
10 Ways to Make Your Vacation Hot AF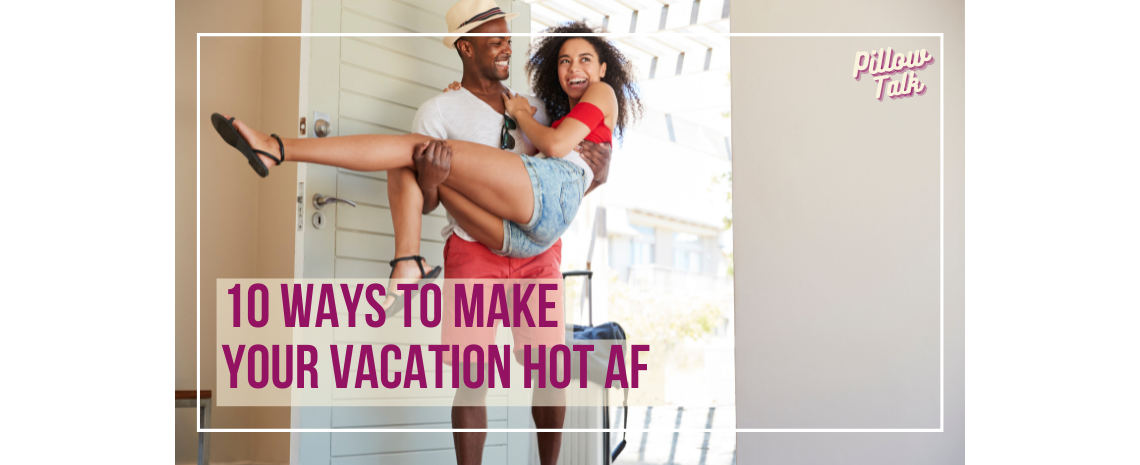 10 Ways to Make Your Vacation Hot AF
Sex on the beach is not just a cocktail
Summer is in full swing, and you are ready for that much-needed getaway to a tropical paradise (down south—if you get my meaning) for a relaxing holiday full of hot vacation sex.
There is nothing like time off in some exotic locale to fire up the libido. All your worries melt away, you get to relax and destress, and have time to turn up the romance with more nookie play.
With that in mind, here is our guide to having the best vacation sex ever, with 10 sizzling tips to make your holiday sexy AF!
Pack for Sexy Time
Pack all those holiday essentials you will need to make your vacation amazing. Along with the bathing suit and sunscreen, don't forget your sexy items, including lube, sex toys, condoms, lingerie, sexy club dresses, and maybe even some kinky play items to spice up those hot steamy nights.
Traveling
When traveling to other countries (or states), remember that some sexy items are off-limits. Sex toys are illegal in a few countries, including Thailand, Malaysia, Vietnam, India, Saudi Arabia, the United Arab Emirates, and the Maldives. This includes any pornographic material, books, drawings, magazines, videos, DVDs, and, yes, sex toys. In some countries like Malaysia, you can get up to 3 years in jail, which is so not sexy! Even here in the US, sex toys are illegal in Alabama, and you are only allowed to have 6 dildos in your travel bag if you go to Texas (so only pack 5!). Utah is also sketchy about bringing porn DVDs, etc., so use your imagination instead.
That said, if you'd rather skip the above destinations for your sexy get-away and want to bring your sex toys with you while traveling, follow these guidelines:
Don't carry sex toys in your carry-on bag, as these are usually searched.

Don't carry metal toys that will make the metal detectors go off.

Don't carry anything that looks like a weapon, including BDSM toys like large paddles or handcuffs. Pack silk ties and less obvious kink toys like this Enchanted Bondage Kit instead.

Bring vibrators with a safety travel lock, so they don't suddenly start vibrating through customs and set off the bomb squad alert.

Pack discreet toys so if your bag does get searched, it looks like an ordinary back massager, a tube of lipstick, or one in its own case made exclusively for travel.

Only bring travel-sized bottles of lube, as lube is subject to TSA liquid rules. Keep it to 3 ounces or less. If you want bring massage oil, consider a massage candle instead.

Some airlines don't allow batteries, so bring rechargeable toys as an alternative. If you are bringing a plugin toy, make sure you have one with a plug adapter for other countries with different electrical currents, or bring chargers that use a USB to plug into your laptop.

Put all your sex toys and paraphernalia in a clear plastic bag, or toiletry bag. Better still, buy a travel-friendly locking storage case for sex toy privacy.

Don't bring CBD or THC lubes or massage oils during travel, as it is still illegal in many places, and you could get arrested for drug trafficking.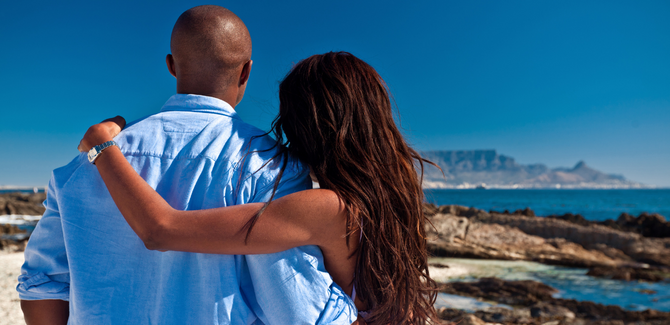 Learn to Relax
Now that you've landed safely in paradise, it's time to unwind and relax. That means no "working vacation," checking emails, social media madness, or worrying about what is going on back home. So unplug, turn off your cell phone and just chill out.
It is difficult to get hot and horny if you are stressed (the biggest libido killer), and cell phones and the internet are major distractions to your sexy time. The world will not fall apart without you, so stop worrying, and enjoy your downtime.
Here are some things you can do to relax and indulge in sexy self-care during your holiday to feel sexier and more revitalized.
Get a full body massage. Bonus points if you and your lover give each other sexy massages!

Go to the spa and get a facial or mani-pedi.

Take a long bath with essential oils or lay in a jacuzzi or hot tub.

Read a good book. Bonus points if it is an erotic romance!

Relax on the beach or laze away poolside.

Meditate and breathe the fresh air in a Zen garden.

Stargaze or watch the sunset as you snuggle with your partner.

Get out in nature and put your bare feet in the grass or sand.

Leisurely visit the local sites and enjoy the culture.

Enjoy a shopping spree and gift yourself something special.

Enjoy dinner at a luxurious restaurant, including dessert.

Have breakfast in bed with your honey and feed each other ripe fruit.
Sexy Adventures
Now that you've had time to unwind and soak in the local culture, a little bit of adventure may be just what you need to turn on your libido. According to Dr. Justin Lehmiller, author of Tell Me What You Want: The Science of Sexual Desire and How It Can Help You Improve Your Sex Life, "Humans have a fundamental need to expand and grow the self… novel stimulus reawakens [and] reinvigorates arousal…." A sexy adventure boosts the adrenaline and gives you a dopamine rush, increasing your libido, passion, and overall sex appeal. Experts say that bonding over a new adventurous or novel activity can recreate that spark of desire.
A sexy adventure can be anything you haven't done before or something exciting. Things like skydiving, horseback riding, water-skiing, hiking, snorkeling, going to an amusement park, whitewater rafting, windsurfing, or sea-doing. If you are not super adventurous but still want to try something different, try a museum, touring old ruins, an art gallery opening, a beach night bonfire, a salsa dance class, or a tiki bar beach party.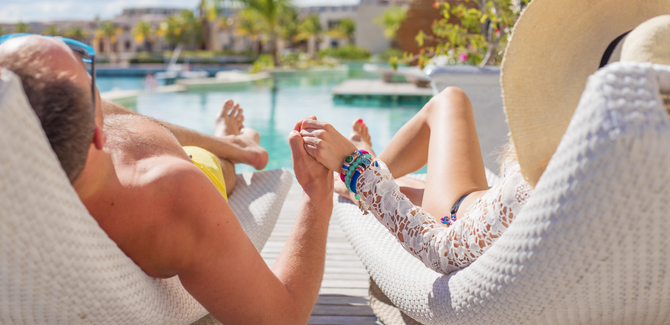 Lube it Up
Lube makes everything slippery and much sexier when planning a night of amorous play. Water-based lubes are usually best for most sex toys and vulvas, while flavored lubes are great for oral. There are also lots of stimulating and warming lubes out now that will fire up your genitals and your sex drive.
Hotel Sex
Since you are paying for that hotel room, you may as well use every inch of it. Try experimenting with various sex positions on that king-sized bed. If there is a headboard, then some kinky bed bondage play may take it up a few notches. Other places to get it on could include a breakfast nook, a comfy chair for bondage sex and tease, the bathroom vanity (mirror sex!), and sex in the shower or jacuzzi. And don't forget the hotel room balcony overlooking that beautiful sunset view. Epic!
Sex Positions
A great way to change things up on your sexcation is to try new sexual positions that you've never done before. Just be careful not to sprain or strain any muscles you don't normally use. Putting your back out during a sexy romp will undoubtedly kill any romantic inclinations you may have.
Try doggy style, reverse cow (with the partner being penetrated sitting on top, backward), stand-down, or the slippery nipple positions.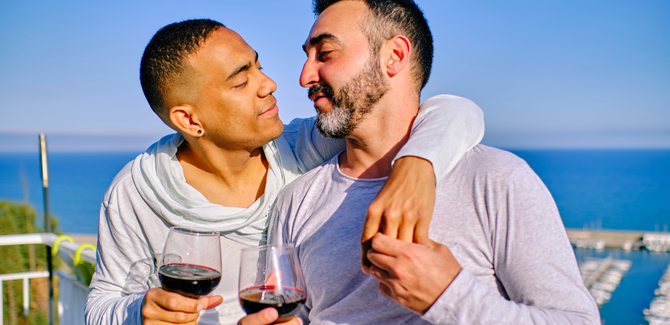 Novelty Sex
Back to sexy adventures, novelty sex is another way to spice things up while you are on vacation. When you are in a new environment, like a lux resort, it can be liberating to experiment with new ways of having sex. So, cross something off of your sexual bucket list like skinny dipping, kink, BDSM, sexual roleplay, pretending to hook up in the hotel bar, or a hot outdoor make-out session. Just be careful, as sex and nudity in public are illegal in most places unless you book at a hedonist-type resort or fantasy hotel.
Water Sex
Many people get excited by the idea of being intimate in the water. But making love in the ocean or a pool may not be quite as sexy as you anticipated. First of all, you might get caught. While that may be a motivator for some people, a few nights in jail or a big fine is sure to dampen that desire.
Also, water sex is not as slippery as you might imagine. It can easily cause chafing as it decreases lubrication. Silicone lubricant can help, but you are probably better off having sex in the shower rather than in salt or chlorinated water. Plus, the pool and public hot tubs are not very hygienic, so yeast infections or UTIs could put a funk into your holiday fun.
If you have a jacuzzi in your hotel room (highly recommended, BTW), you can also try out some waterproof sex toys for your passionate connexions. Or try making out in the waves first, then return to your hotel room to get down and dirty.
Sex Outdoors
If you still insist on having sex on the beach or somewhere out of doors, Cosmo says, "it's perfectly legal to have sex outdoors as long as no one spies you at it, and as long as it's not in a public place like a park." In other words, just don't get caught!
Try secluded spots or late at night where you won't be seen. Keep your clothes on as much as possible or wrap yourselves in a large beach blanket. Other places to get it on include an elevator, stairs, rooftop, gazebo, or nightclub bathroom.