Talk Dirty to Me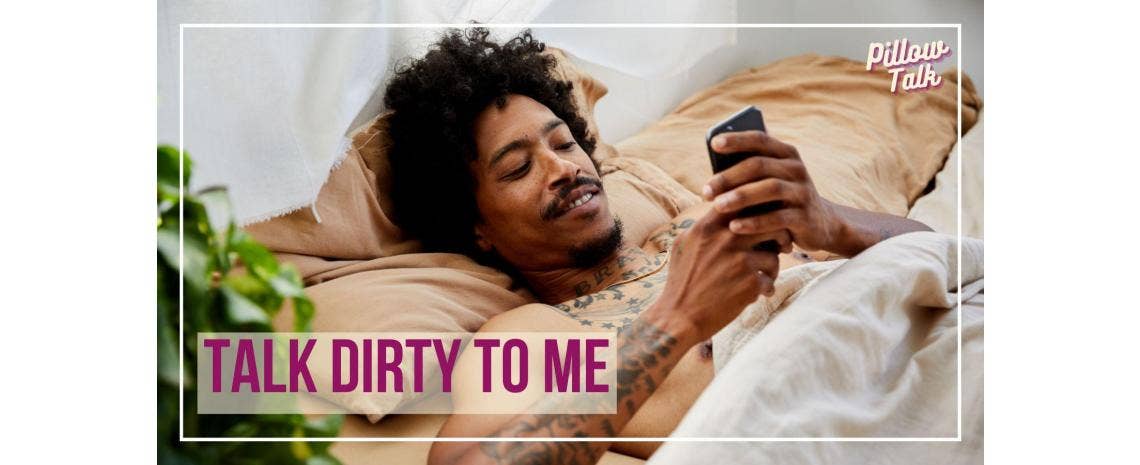 Talk Dirty to Me
Tips to send dirty text messages to your partner
Have you ever wanted to send dirty text messages to your partner(s) but were unsure how to start it? Well, have no fear because this is your handy dandy guide for getting naughty via SMS with confidence and fun. Sexting is a great activity to kick start a steamy evening you already have planned or just to add some playfulness throughout the day. Sexting can look different depending on you and your partner and what you both have consented to, so you should talk about sexting before you start.
Sexting Details to Discuss
When having your conversation about sexting and what you both consent to, it is important to discuss if there are any times when sexting wouldn't be okay, such as big meetings at work, when traveling, or when on baby/child duty. It is also important to discuss comfort with images as well as text or if you all just want to stick to written text messages. If you all are on board with naughty pics, talk about the level. Bra on or off, fully nude, below the belt, videos with audio? All of these are important things to think about, especially in terms of where the messages are being received. The last thing you want to do is send a video with audio when they are at work in a co-working space. Content warnings are your friend in this situation. A cute message before sending like "put in your AirPods for maximum theatrical experience! ;)"
Now that the consent conversation has been had, where do you start with sending a sexy text? Here are three different starting places if you have a bit of a creative block or feel overwhelmed sending the first text.
Use Song Lyrics
Do you and your partner(s) have a sexy song that always puts you in the mood? Start by sending them the lyrics to the song. This trend has been very popular on Tik Tok. You can send a steamy line from the song to shift their mind to think about sexy time. You can then continue with the song lyrics or describe what you would like to do with them while listening to the song.
Let Your Partner Take the Lead
If you aren't sure where to start the sext, you can prompt your partner(s) to do that with a sexy text asking them what they would do to you in X, Y, Z scenario. For example, you can start with something like, "I'm picking my outfit for dinner tonight, but I don't know which to choose? This set looks sexy under my dress, but this set is less conspicuous (bc there's less there). Which do you think I should do?"
Recap Your Last Sexual Encounter Together
If you recently had a scrumptious romp with a partner, you can sext about how tasty it was. Start by telling them how you are fantasizing about the specific things they did. Tell them what made your toes curl. Ask them what their favorite moment was. This sexting setup also works as a great aftercare/check-in option for your relationship.
There are a lot of different ways to start sexting, and the most crucial part is to have fun with it. Your partner(s) already enjoy so many parts of you (physically and personality-wise), so just be yourself. If you have a more fun, playful relationship with lots of laughter, keep the laughter and fun in the sexts. You don't have to be a prize-winning erotic author to sext, you just have to want to engage in something sexy and fun with your partner(s).
The last piece that is important when it comes to sexting is protecting yourself and your partner(s).
Protecting Yourself and Your Partner(s)
We live in a digital age, where so many devices and accounts can get hacked on the daily and for some, we don't want to share all of our sext and naughty pics with the world. So it is important when it comes to sexting to keep privacy and protection in mind.
Using an encrypted messaging service is a great starting point. You can connect WhatsApp to your phone number and send messages to people. If you know you will be sending naughty pics, then it's recommended to store the images in a private folder or a secure app like Photo Vault. On iPhones, you can add photos directly to a hidden album within photos.
The last privacy piece to consider is if you have text previews on your phone. If portions of the message automatically show, someone picking up or looking at your phone may see something when a text message comes through, so consider turning that function off, or don't, whatever you want to do.
Now that you have a little more guidance on what to discuss with a partner, how to start sexting, and the important privacy/protection pieces, you can go and have some dirty fun! Remember that until you have consent, you should not send sexts, and you definitely should not send unsolicited nude pics – that's 1. A consent violation and a form of harassment and 2. Such an asshole move.
Now go get your sext on!