6 Tips to Keep the Spark Alive
6 Tips to Keep the Spark Alive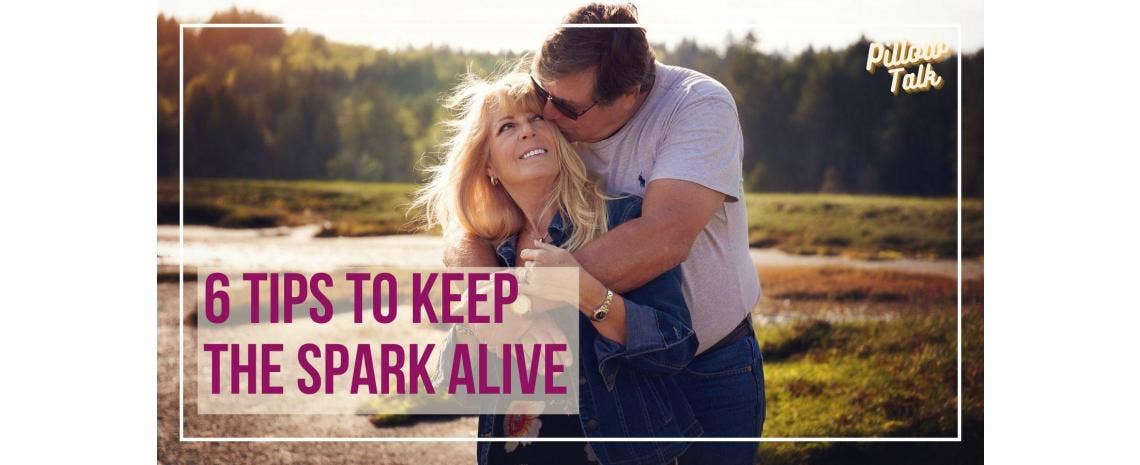 6 Tips to Keep the Spark Alive
Relationships require effort to keep the romance and passion flourishing.
How can you keep the romance and love alive over an extended amount of time? Often it is suggested to try things like couple's therapy, drinking wine, or letting things roll off your back. However, we are here to give you some more useful tips. Here are six different tips for keeping pleasure, passion, and romance alive and well in your long-term relationship.
Always Work to Better Your Communication
Communication is a crucial aspect of all relationships, especially long-term relationships. It may seem like the tools and skills of communication that worked early in a relationship should work throughout, but life changes, we grow as individuals, and what once worked for us may not always. Nevertheless, you can continually work on your communication skills by practicing active listening, using multiple forms of communication, establishing parameters around communication, and practicing honesty.
Continually Check-In
As you continually work to improve communication in your relationship, it is important to use those skills to check in with each other. Check-ins can be about all the different aspects of your relationships. Here is a non-exhaustive list of check-in questions you can use in your relationship:
Do I love you the way that you want to be loved?

Do you feel supported and heard by me?

Have I stopped doing something that you love or enjoy?

Do you feel seen and heard by me?

Do you feel that I love you in your love language(s)?

Am I vocal with you in my feelings, affection, and hopes?

Do you enjoy the sex we're having?
Get Away Together
The longer you are in a relationship, the more likely you are to settle into a routine. Though having a daily schedule has many benefits, it can also be prohibitive in terms of creativity and passion. Scheduling a trip with your partner to go somewhere romantic or new will give you both something to look forward to, a new location to revitalize you, and a break from monotony. Start with shorter trips to overwhelm yourself or your relationship or put too much expectation on the rekindling aspect.
Go Back to the Beginning Occasionally
Nostalgia is on the rise in tv and movies, and it may seem overplayed, but when it comes to your relationship, nostalgia can do wonders for romance.
Think back to when you and your partner first met. What did you do on your first date? What did they do that created butterflies for you? How did you show each other you were interested? Revisit some of those things. Did you use to leave each other post-it notes in your cars after dates? Did you use to send each other postcards whenever you went somewhere new? Did you have a special restaurant you would go to after football games? Go back to those places.
Don't recreate the same things, but recreate the feelings. Think about how the little things you did for each other sparked romance.
Add-In Some Spice
What we find pleasurable and enjoy sexually, with a partner or alone, evolves and changes through time. This is expected because sexuality is fluid and has ebbs and flows. Though this is common in all relationships, it can be a little jarring, and feel like there is a disconnect in your relationship. Adding some spice is a great way to connect and keep the pleasure alive within your relationship.
Adding toys to the mix is a great way to shake things up and prioritize pleasure in new ways. If you are a novice using toys with a partner, using less obtrusive and intimidating toys is a great place to begin. Vibrating bullets are great options. The Pocket Rocket Elite is a rechargeable option that is small enough to fit between bodies and powerful enough to be used all over. If you are looking for something more ergonomic and designed to the curve of the body, the LELO Lily 2 is an option that is powerful, sleek, and rechargeable.
Devote Time To Your Friendship
Strong relationships have a good foundation of friendship. Friendship is essential to relationships for various reasons, one being it allows you to enjoy still spending time with someone even when the sexual aspect of a relationship is in flux. Having a friendship with your partner is a great way to keep a spark in your relationship outside the bedroom.
You can plan activities together that don't have any connection or intention to sexual activity. You can use this as a time just to have fun. You can spend time together as friends learning each other's hobbies, exploring new areas in your city, going to bookstores together. Any activity you would do with any other friend you can do with your partner.
Though it may seem daunting and intimidating, it is extremely common for the spark or flame to dim sometimes. Life happens, and we only have so much control over how it impacts us and our relationships. Remember you aren't alone and it is a part of being in a long-term relationship.