Some Like it Hot, Some Like it Cold
Some Like it Hot, Some Like it Cold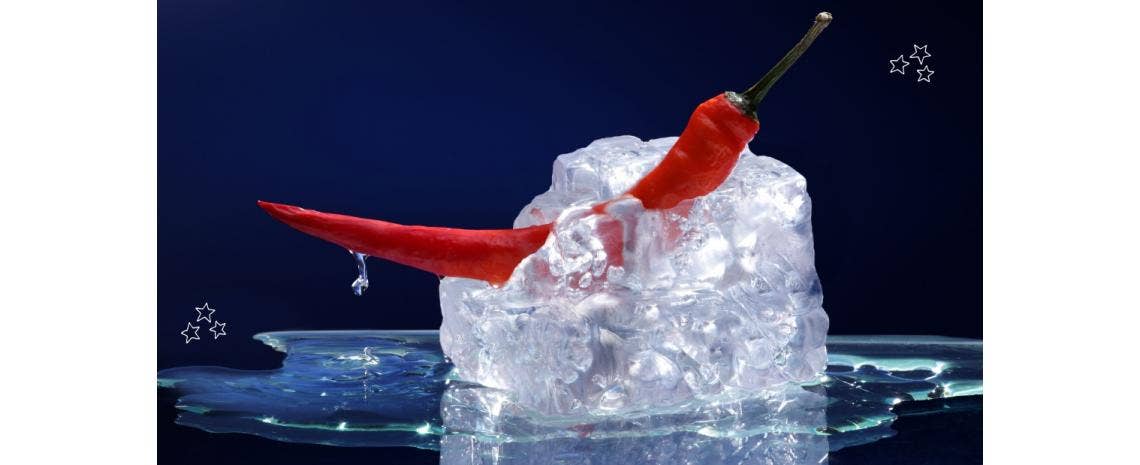 Some Like it Hot, Some Like it Cold:
Temperature Play
If you've been looking for a way to literally heat things up in the bedroom, temperature play might be just the thing. From refreshing chills to passionate heat, your options for temperature foreplay are vast. It can be as simple or elaborate as desired and is easily customized to anyone. Whether you're looking to steam things up or cool things down, this article will give you plenty of insights on how to incorporate temperature into your activities.
What is Temperature Play?
According to Katy Thorn, a writer for LELO, temperature play is "a type of sensation play that uses hot and cold objects or substances on the body for sensual exploration." Temperature play might sound intimidating, but it can be customized for everyone from beginners to those with more experience. Kinkly explains how temperature play is meant to stimulate neuroreceptors to trigger a sensual response. This can be achieved with something as simple as trailing an ice cube over bear skin to heating or cooling temperature-retentive toys.
Temperature play is a staple in BDSM, but can be adapted to any comfort or skill level. Some like to incorporate restraints or blindfolds into temperature play, so as to add an extra element of surprise when playing with hot and cold. However, it is totally up to you how you'd like your session to go.
Where to Get Started?
Temperature play is all about heightening your senses. It can be done easily and safely at home by yourself or with a friend. Temperature play can be done solo or with partner(s), with or without toys, and DIY or with products specially made with temperature play in mind. There's a near endless sea of options to explore when it comes to experimenting with hot and cold.
Thorn recommends starting by using ice or freezing fruit or vegetables, particularly anything with a high water content, and holding it in your mouth or tracing the frozen items along your skin—especially the more sensitive areas.
Things to Keep in Mind:
While hot and cold sensations can trigger exciting responses, it's important to remember that temperatures shouldn't be too extreme. However you decide to play, always test whatever product you're using beforehand to make sure that the temperature is just right. Communicate with your partner beforehand, too, as it should be fun, not painful.
Also, be sure to only use products you know are skin safe and suitable for intimate use. Candle wax can be a fun tool for temperature play, but all candles have different melting points. Rather than using any you might have around the house, go for one that has been proven to be skin safe and avoid potential painful burns.
Product Recommendations:
Massage candles can be a fun option for beginners to experts. Feel the Heat Warming Massage Candles are a great option. Made from a coconut and soy wax formula, they are skin-safe and subtly scented. The candle's spout makes for easy transfer from the container into your hand—or onto your partner.
For those who want to get that spark without any actual fire, warming massage oils are another good choice. Massage oils come in a variety of scents and, in some cases, flavors. Exsens Of Paris Warming Massage Oil comes in four unique flavors, all inspired by your favorite tropical drinks. The oil will heat things up just from application, but mouth-to-skin contact will intensify the warming properties.
If you're looking to cool things down a bit, try a lubricant with a cooling property. System JO lubricants are silky smooth without being sticky, and have a variety of anal-friendly cooling lubraicant options. JO Premium Cooling Lubricant is designed to not only make things go smoothly, but to also provide an extra cooling sensation. Try chilling it in your fridge before use to up the chill factor.
For the hot natured folks, or anyone who wants to give themself or a friend goosebumps, try the On Ice Buzzing and Cooling Female Arousal Oil. Made from a combination of oils including the incredibly stimulating ingredients cinnamon and peppermint, ON ICE is sure to make you shiver with delight when applied directly to the more sensitive parts of the body.
When you're ready to move on to something a little spicier (or chillier, depending on your preference), there are a variety of toys that can help. A vibrator with heating technology can give you or your partner all the warm and fuzzy feelings you want. Something like the Elegance Posh or the Elegance Opulent include a heat feature allowing them to reach up to 42 degrees Celsius (107.6 Fahrenheit).
Metal and glass products can also be heated up or chilled for a titillating effect. In addition to experimenting with temperature, metal and glass toys also allow you to experiment with different textures. Mystim Gmbh carries several metal toys suitable for temperature play, ranging from smooth to ribbed. The Funky Fella, among others in their catalogue, is specifically designed with temperature play in mind. Try putting it in the fridge before use or heating it up.
For glass products suitable for temperature play, the Crystal Tapered Kit offers three anal plugs in varying sizes that can be heated or chilled for play. The easiest way to heat glass products is to submerge them into warm—not hot—water for a few minutes. To chill, you can use cold water or place them in your refrigerator.
When it comes to temperature play, you've got more options than just choosing hot or cold sensations. Any way you want to experiment, whether it be solo or with a partner, there are products and techniques to help you achieve your best result.
Remember to always play consensually, especially when experimenting with temperature. Test everything beforehand to ensure that products are comfortable for yourself or your partner. You don't want things to get too hot—or too cold. Carefully consider temperatures and applications of products beforehand and take all the guesswork out of playing.
Have fun!