Shower and Bath Sex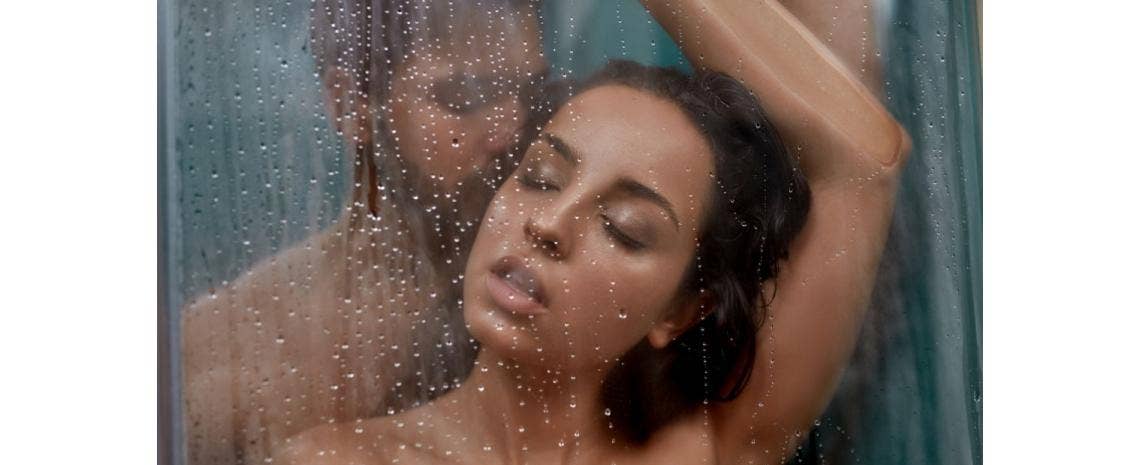 Shower and Bath Sex
Get down and dirty while getting clean
There's a reason the bathroom is a favorite location for many movies, books, tv shows, and adult films. It's a location that poses a lot of potential for pleasure but also poses a lot of logistical problems.
Nothing sounds less romantic than falling and slipping a disk.
But, like a lot of good things, it's worth the work and extra effort. Keep reading for some tips on shower and bathtub sex, activities to try, and tools to help really steam things up.
Shower Sex
The cascading water, the showerhead, the easy clean-up, the full view of your partner's glistening skin. . . there's a lot to love about shower sex. Especially if you've ever wanted to try standing sex, or that's already your jam.
Unfortunately, not everyone has a spacious shower. If your stall at home is small, it could get a bit cramped with two people in there. Make sure you've got enough space to accommodate both of you and consider bringing in a shower stall for some extra stability and to aid in positions.
Standing sex is a go-to but isn't the most stable. Depending on how much room you have, doggy style is also a great choice for the shower. Both partners can find stability and satisfaction.
The shower doesn't have to be all about penetration. It's a great place for oral sex. Both parties are typically able to find a more stable position, and it makes for an easy clean-up before or after (or both). A shower is also a great place for a little massage or manual stimulation. Another great tool is body-safe soap that will not affect your pH balance. Use a little bit to give your hands some extra lubrication and go on a journey of self-discovery.
A shower is a fantastic place for solo players. You've got more room, and don't have to navigate the space with another person. If you've got a detachable showerhead, use it to your advantage.
Bathtub Sex
The bathtub is a much more forgiving option. If one or both of you are disabled, a fall-risk, or prone to fatigue, a position where you can remain seated or closer to the ground is going to be much more comfortable. Bathtubs are also great for partners with a dramatic height difference. Height and ability differences can pose a challenge logistically. But in the bathtub, you're both on a fairly even playing ground.
The bathtub is not an ideal place for oral sex, but it is a great place to give each other a massage or try out a number of positions. Reverse/Cowgirl, doggy style, and missionary are all bathtub-friendly positions. And if you did want to indulge in some oral action, the receiving partner could always sit on the rim of the tub while the other kneels in the water.
The bathtub is great for partners and for singles. It's a great place to get down with yourself, using just your hands or a waterproof toy (we'll get into those later).
Although you're much less likely to fall and injure yourself in the bathtub, you do have a higher chance of getting an infection. If you plan on having sex, avoid bath salts, bath bombs, or any kind of bubble bath mixture. These are great if you're just planning on chilling, but they could totally throw off your body's chemistry and cause infection if you're planning on anything sexual.
And just like showers, you run the same risks compromising the effectiveness of contraceptive devices and lube. There unfortunately isn't a great way to apply lube underwater, so that's something to take care of before you're both fully submerged.
Tools and Tips
You can do whatever you want, but anti-slip stickers and lube are must-haves. The shower is plenty slippery as is when you're the only one in there. Adding another person into the equation could tempt fate, so plan ahead to avoid any accidents.
Another thing to be mindful of: barrier methods are more likely to break down in the bath or shower. While water won't affect latex condoms or dental dams, they are more likely to slip or tear in the shower. Shower oils or gels, or even soap, can cause physical contraceptive methods to break down.
Lube is always required, even when you're in the shower. The oils and soaps you use in the shower are not suitable replacements (and could seriously affect your body's natural chemistry). Invest in some quality lube for your aquatic activities. Water-based lube might not be the best for shower or bath sex, as it could prematurely dissolve. A silicone lubricant is the way to go. K-Y TrueFeel Silicone Lubricant offers a long-lasting, silky feeling that can be enjoyed in or out of the shower.
Do test drive silicone lubricant out beforehand. Some people might find silicone-based lubricants irritating. Silicone lubricants also break down toys quicker, so plan what you're using out beforehand.
Speaking of toys, bringing one into the shower with you is a great way to turn up the heat for you, or you and your partner. Just make sure you choose something water-resistant, and that you have a compatible lube.
The brand B Swish has a few different water-resistant vibrator options, like the BCute Classic Curve and the BCute Classic Pearl. They come in bright, beautiful colors and can be used in and out of the bathroom.
If you want to really make the most of your bath, the Waterslyde Aquatic Stimulator might be the perfect investment for solo vulva-owners. This universal faucet attachment, perfectly angled for your pleasure, helps direct water wherever you want it to go. It's great for anyone who likes external stimulation, and it's disability-friendly. All you have to do is attach to the faucet, sit back, and enjoy.