Doc Johnson's Tryst and Tryst v2
Doc Johnson's Tryst and Tryst v2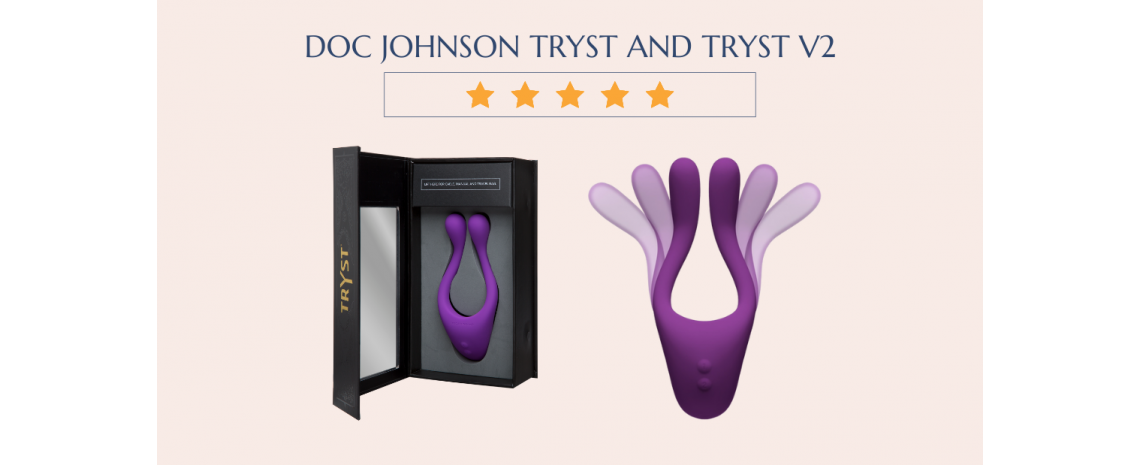 TRYST
by Doc Johnson
One of the most common misconceptions about sex toys and pleasure products is that straight and straight-passing couples don't need them! And while we can sort of understand that mindset, just because they do not technically need any extra products to perform penetrative sex, that narrow mindset means that many opportunities for better sex are being overlooked!
Cock rings are one of the easiest ways to up the experience, as they are used to extend the duration of an erection, allowing for more play time. One of our favorite updates to a standard cock ring is Doc Johnson's TRYST. It is a combination cock ring and clitoral vibrator designed with the ability to be worn during sex or any type of partner play, but unlike a basic ring, it's not just limited to intercourse—TRYST is also a great option for a solo masturbation session for any gender.
The TRYST has three individual, strong motors: one in each arm and one in the base. Because the arm motors can be controlled separately from the base, when used during penetration, each player can experience the exact strength and pattern vibration they prefer, if any. When used solo, the arms can be inserted vaginally, anally, or both! The vibrating arms are perfect for stimulating the clit, nipples, or being worn around testicles for an extra sensation while masturbating.
In fact, there are so many innovative ways that TRYST can be used that Doc Johnson has even provided a (non-comprehensive) chart of diagrams to show a few suggested uses for those who would like to get creative. (Pssst: we can't wait to try them all!)
The options were greatly expanded in 2020 when the second iteration of TRYST dropped. TRYST v2 looks very similar to its original predecessor, but includes many new features. The new version can be controlled by the included wireless remote. The addition of the remote makes it much easier to switch vibration settings during intercourse, since the original can only be adjusted by using the buttons on its front.
The other major and exciting update to TRYST v2 is the product's bendable arms. Each arm still includes a powerful motor, but now they are posable, so the wearer can adjust it for their cock, if they prefer a tighter or looser fit. The arms bend any way you want them to, but they are not flimsy—they stay in position as posed. And don't worry, there's an updated chart of suggested uses for this new functionality.
We love both versions of the TRYST, especially due to their ability to be used to great extent during both solo and partner play. They're also both available in multiple colors—the TRYST comes in purple and black, and TRYST v2 in purple, mint, and teal—and all are made with health-grade silicone, the safest material for your body.
So whether you're an experienced pleasure-product user or just beginning to look for a way to bring them into your relationship, TRYST and TRYST v2 are worth trying out.
During the month of July, all TRYSTs by Doc Johnson are 20% off. SHOP NOW. Shop in-store and also get a FREE toy bag with any Doc Johnson purchase.