California Dreaming Toys to Match Every Summer Vibe
California Dreaming Toys to Match Every Summer Vibe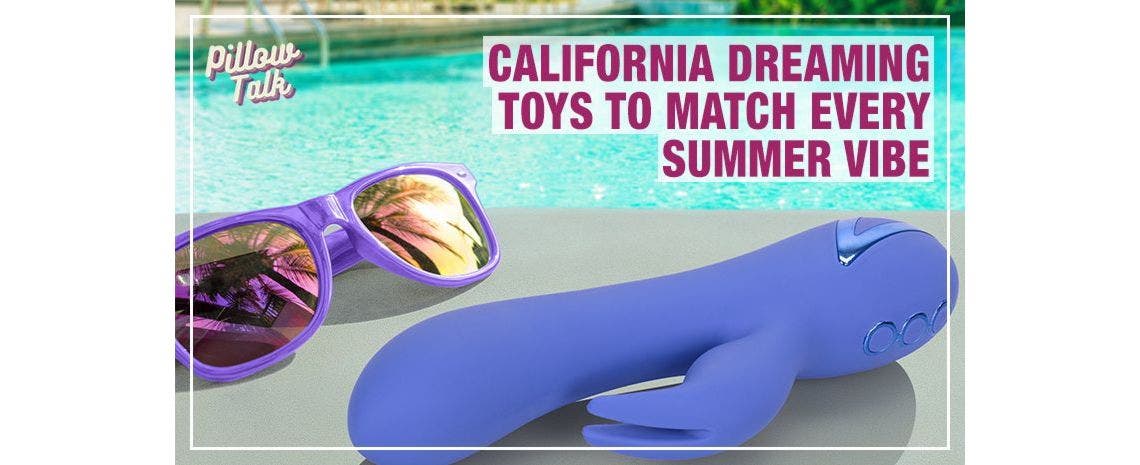 It's summertime and whether you are wanting to stay in and relax or head outside and have fun a new sex toy will turn up the heat on your summer fun, but picking a toy can be a little overwhelming, so here are California Dreaming Vibrators to for every summer vibe. So, get the one that matches your vibes or all the different vibes you want to have this summer.
For the Catch Flights, Not Feelings Summer Vibe
If you have flights booked all summer long and have no plans of getting tied down with a boo then the California Dreaming Sierra Sensation is the toy for you. This toy will fit perfectly in your carry-on and will always be ready for some fun. The Power Boost function is also great to get you through jet lag after hopping on and off planes all summer long.
For the Layed Out On the Beach With a Book Summer Vibe
You are about a classic summer, just beachy waters, a good book, and relaxation. For the classic in you, the California Dreaming Beverly Hills Bunny is a great option. A bunny vibrator is as classic as they come when you think of sex toys. And if you need a book recommendation for when you are laying out on the beach might I suggest venturing to Book Tok where the smutty book recommendations are never-ending.
For the Tropical Beaches Only Summer Vibe
If you have standards for your beaches and they include being clear blue, see-through water you know what you want and you don't take less than that the California Dreaming Tahoe Temptation is perfect for you. You know what you like in your beaches and go for it so why not go for what you like in terms of pleasure for dual stimulation with pinpointed clitoral stimulation.
For the Camping Queen Summer Vibe
Whether you choose to car camp, glamp, or go backpacking this summer less is more when packing so the California Dreaming Hollywood Hottie is a great choice for you. This small toy will easily fit into your camping gear and not take up too much space but will still offer direct external pleasure.
For the BAECations Only Summer Vibe
If you are spending your summer traveling with a partner then the California Dreaming Laguna Beach Lover is perfect to take with you on your baecations. This toy is perfect for trips with a partner because of its versatility. You can use it for direct clitoral stimulation, for exploring erogenous zones, and for stimulating the taint (the space between the anus and the balls).
For the Festival Going Summer Vibe
Turn up the music, and turn up the vibes with the California Dreaming Valley Vamp. This vibe has a rhythmic stimulator on the clitoris that moves side-to-side, so just as you sway your hips at a festival the clitoral stimulator moves side-to-side. The textured detailing on the shaft also adds more stimulation, which is perfect for festivalgoers that enjoy feeling so much at once.
For the Windows Down, Music Blasting Open Road Summer Vibe
You like feeling the bass of the music in the car while driving? Well, now you can experience even more rhythm with the California Dreaming San Diego Seduction with gyration and thumping functions. Don't just really on some strong beats to offer you some pleasure, let this toy add to your pleasure as you road trip this summer!
For the Travel Bug, Globe Trotting Summer Vibe
Do you have a desire for adventure and exploration? Explore pleasure with the California Dreaming Long Beach Bootylicious. This matches your vibe of adventure and trying new things with its triple stimulation of the clitoris, vagina, and anus. Just be careful of what trips you take this on, because not everywhere in the world allows you to bring se toys into their country.
For the Study Year-Round Student Summer Vibe
If you find yourself in summer classes and feeling like you aren't able to fully enjoy your summer, some pleasure may help. The California Dreaming L.A. Love is a great option for a book worm. You get the pleasure of dual stimulation with clitoral suction to really help you unwind and remember it is summertime after a day of hitting the books.
For the Brunch Going/Margarita Drinking Summer Vibe
Now if you're summer is filled with brunches and margaritas galore you like to have and the California Dreaming Bel Air Bombshell is just for that. Experience multiple sensations at once, just like drinking a delicious mimosa or margarita. You have vibration, rotation, and flicking all at once, just as pleasurable as a mimosa or margarita flight!
No matter the summer vibe you are looking for there is a California Dreaming toy for everyone, so go add to your collection and enjoy your summer filled with pleasure and fun!