Vibrator 101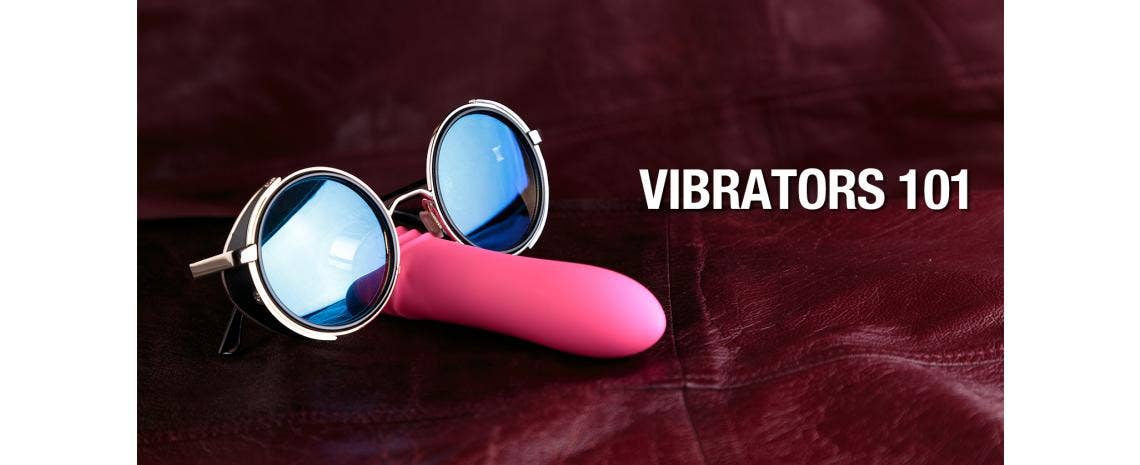 Learn About Vibrators 101
When it comes to the world of vibrators, there are a lot of options available. Below are a few things to think about and understand before you make your first (or second or third) purchase. Like people, sex toys come in all shapes and sizes. When considering your toy, ask yourself how or, more importantly, where you would like to use it. These are some main shapes/styles of vibrators available today:
Types
Bullet vibes range in size from 1-3 inches in length and typically look like their name implies; a bullet. While the overall design hasn't much changed, they certainly do get the job done. Those looking strictly for clitoral stimulation would do well with this toy. Due to their size, they are discreet (some even come in sneaky packaging to look like a lipstick). They can be used solo or with a partner and can be easily tossed in an overnight bag, dresser drawer, or even a purse for on-the-go orgasms.
These vibes are longer than your standard bullet and range in size from about 4-7 inches. These are primarily used for internal stimulation, though they can also be used externally if you have any mobility/dexterity issues. These typically tend to be on the slimmer side and are usually smooth.
Like a stick vibe, g-spot massagers are intended for internal use. Most will have a slim, straight shaft with an egg shaped bulb on the end. This bulb, once inserted, will massage the g-spot that is located about 2-3 inches inside the opening of the vagina. Being that the g-spot is part of the clitoral network, stimulation in this area can result in an intense orgasm.
You know those "back massagers" you would see ads for on late night TV? That was the original iteration of one of the most powerful toys available. Wand-style toys look similar to a microphone with a bulbous vibrating head and a shaft to maneuver. If you want a lot of power, the original design that plugs into the wall is going to be your best bet. With technological advancements, however, these do also come in rechargeable options. The frequency at which these vibrate offers a deeper, rumbling sensation that is intended for external stimulation (though you can get attachments for internal stimulation if you are looking to really rock your world).
For those of us old enough to remember Sex and the City, this iconic toy has been a go-to for people for decades. This toy has the best parts of a stick vibe and a bullet combined into one! Rabbit vibes tend to be what most people think of when they're first considering getting themselves a toy. They come in all shapes, sizes, colors, and functions so try to keep that in mind while shopping.
These are sort of the "other" category of the sex toy world. Dildos can vibrate, but don't always have to. For the sake of this article though, dildos typically range in size from 4-12 inches and often look like a penis. Those that do not look like a penis will be thicker than a stick vibe and tend to have more nuance in terms of shape. They will often have a suction cup base that can be used for riding or in a harness for partner play and the vibration speeds and patterns will vary from toy to toy.
Details
Functions and Features
So here is where things can get interesting. With advancements in technology, vibrators don't just have the three low, medium, high settings. Now they offer pulsating, staccato, and a wide range of dots and dashes to bring you right over the edge.Not only are there different vibration patterns to think about, there are also a number of features certain toys offer that include, but are not limited to: sucking, warming, thrusting; beads that move up, down and around; thumping, wiggling, and spinning.
Size
As I mentioned before, sex toys are like people… they come in all sizes. Some will be petite and some will be, well… quite large. Something to consider when making your toy purchase is not just length, but girth as well. If you've only ever had a finger (or nothing) inserted, you may not be as comfortable using as girthy or lenghty toy as someone who has been sexually active or used toys before. It is important to consider your own comfort level when considering your toy purchase.
Material
Toy material is also something to take into account. While there is no federal mandates when it comes to toys, the industry does a fairly good job at self-regulation. That being said, not all toys are 100% body-safe or allergen-free.
To learn more about the different materials used to make vibrators and dildos, check out our blog "Dildos 101".
Color
Gone are the days of pink and purple being the only available color option! Toys now come in every color imaginable ranging from flesh tones to neon green and orange. While you'll still find many pink and purple hues, you'll have much more choice.
Other Things to Think About:
Where will you be putting your new best friend? Do your kids snoop through your stuff? If you plan to use it primarily in bed, do you have a place to store it that is easily accessible? If you want a plug-in wand, where is the nearest outlet?
Make sure to keep hygiene in mind when stowing and cleaning. To learn more about keeping your toys clean, check out our blog"How To Clean and Store Your Sex Toys Properly".
Noise Level
Do you live alone where noise isn't a concern or do you have paper-thin walls and nosy roommates? Are you trying to get in one last orgasm before bed and don't want to wake your sleeping partner?
Practicality
As much fun as 60-pound sex machine with full range of motion and thrusting action may be, will it take up an entire room in your house? If so, is that a problem? Do you want a toy that can do multiple things or do you want specific toys for each use? If you travel often, is your toy small enough to bring with you?
While there is certainly is a lot to consider and think about when it comes to purchasing a toy, this guide is designed help you think about what it is you want in a toy and give you an idea of what is available. If ever you need assistance, don't hesitate to swing by your local Lion's Den or chat with our online representatives for assistance in selecting the right toy for you!