Dildos 101 | A Guide To Buying Your First Dildo
Dildos 101 | A Guide To Buying Your First Dildo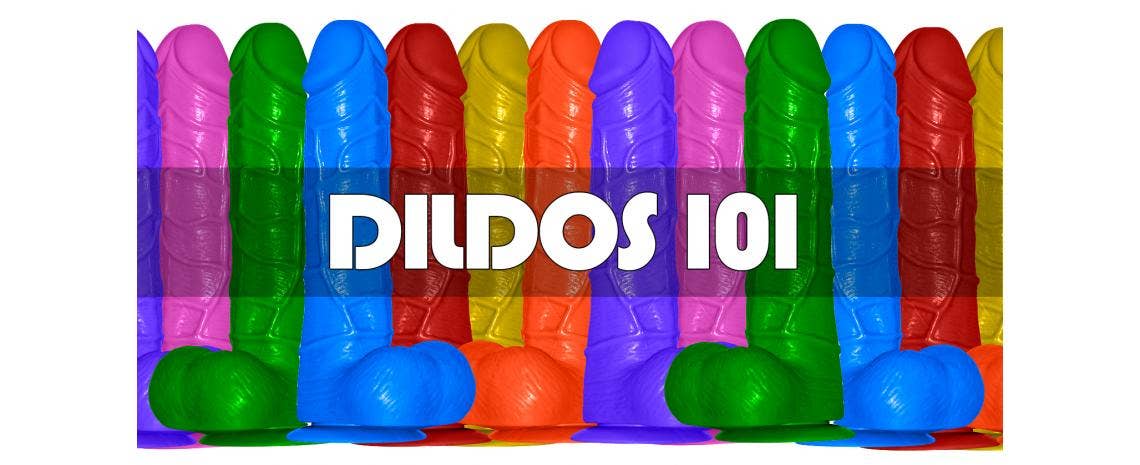 Dildo Buying 101
Buying a dildo shouldn't be a painful experience (unless you're into that). Here are a few things to consider when purchasing your new best friend.
Size:
Size is generally the first thing people jump to when considering a dildo. If this is your first toy, you may want to consider starting with something smaller and see what works for you. Length of a toy is measured in two ways; "actual length" which is measured from base to tip and "insertable length" which is how far the toy can realistically be inserted without the base or testicles getting in the way.
While length is an important factor, so too is diameter. The diameter of a dildo is measured at the widest point of a dildo and is the width across. For reference, check out the diagram below: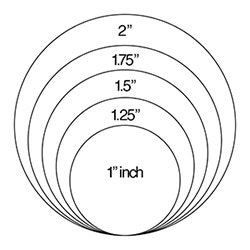 Shape/Texture:
- If you're looking to stimulate your g-spot or prostate, a dildo with a curve will be your best bet
- A toy with a taper is best for anal play
- Something double ended is a solid choice for double penetration
- Ridges, bumps, or waves will provide an added sensation
Base:
If you're planning to use your dong in a harness, you'll want to be certain you have a toy with a suction cup base. This will prevent the dong from sliding out during play. Likewise, if you want to be able to ride the dong (shower play, anyone?) you're going to want to have a suction cup to keep it from moving around.
If your dong will be inserted anally, make certain it has some kind of flared base that prevents it from going completely inside. If that happens, the dong may not come out which means a visit to the doctor and a play session ruined.
Material:
Not all materials are created equal. Some will be more flexible and skin-like while others will be rigid and easy to clean. The material of the dong is just as important as the size. Here's a basic breakdown the of the types of materials typically found in dongs:
Silicone:
Silicone is a non-toxic, man-made material with a tight molecular structure. This means silicone toys will be smooth and non-porous which is ideal when it comes to keeping it clean. Silicone dongs can range in flexibility, though in general, the material does not have the bounce you may find in other toy materials.
Because there is no federal regulation of sex toys in the United States, a toy only needs to contain 10% of a material for it to be listed as such. Make sure that if you're wanting a medical grade silicone material that you double check with the manufacturer before purchasing.
Thermoplastic elastomer (TPE) or Thermoplastic rubber (TPR)
These non-toxic materials are some of the most commonly used in toys. They are strong and extremely flexible and stand up to rough use. This material is porous so make sure to take extra care when cleaning and storing them. If using toys made of this material anally, make sure you use a condom especially if you plan to use the toy elsewhere.
Soft Skin
Also known as Flanta Flesh, Cyber Skin, Siliskin, UR3, etc. this material is designed to mimic the texture and softness of real skin. It warms quickly to the touch and is extremely flexible. Because of its porous nature, extra attention to cleaning and care is vital. In addition to cleaning with a toy cleaner, you will want to use a toy powder to keep your toy soft and not sticky.
Borosilicate glass
Like the material used to make Pyrex dishware, this material is shatter proof and extremely easy to sanitize. Because of its rigid form, this toy allows for more accurate and firm pressure during use. It can also be placed in the microwave or refrigerator for experimentation in temperature play.
Polyvinyl chloride (PVC)/ Jelly Rubber
When shopping for dongs, this ridged material is often combined with other plasticizers (most commonly phthalates) to increase flexibility and over all "squishiness". The texture of these toys is soft and smooth, but also can be quite tacky to the touch. They are quite porous, so again, take extra care when cleaning and storing the toy.
There is some discussion as to the body-safe nature of phthalates. The Food and Drug Administration (FDA) has investigated the effects of phthalates in food and body care products, but has yet to look into them with regards to sex toys. These additives have, however, been banned in the United States for use in children's toys which is something to take into consideration when purchasing toys made with this material.
PVC toys are some of the least expensive options available which may be good for a first time purchase. Just be sure you're using a condom with the toy as a barrier.
Care and Maintenance:
With the exception of glass, water-based lubricant is the only type of lube you should use with your dong. Silicone or oil based lubes will damage your toy and can be a pain to clean up.
When it comes to cleaning, toy cleaner is your best friend. These solutions will keep your toy sanitary while not damaging the material of the toy like other cleaning fluids are prone to do.
Storage of your toy is just as important as cleaning. You don't want to be throwing your freshly cleaned dildo into a dirty nightstand drawer or in between your mattress. Sugar sacks, anti-microbial containers, or even a clean pillow case will ensure that your toy doesn't come in contact with anything unpleasant, especially other toys. All toys should be stored separately (or at least not touching) to avoid any toy melting situations.
If you're planning to use a pre-lubricated condom with your toy, double check on the type of lubricant being used. Water-based lube will be you (and your toy's) best friend.
Finding the perfect toy doesn't always happen on the first try. You may decide that you love one aspect of your toy, but aren't crazy about another. Experiment with materials and textures to see what works best for you. And always remember to lube up for the best results! - Eden Rowe