Seeing Green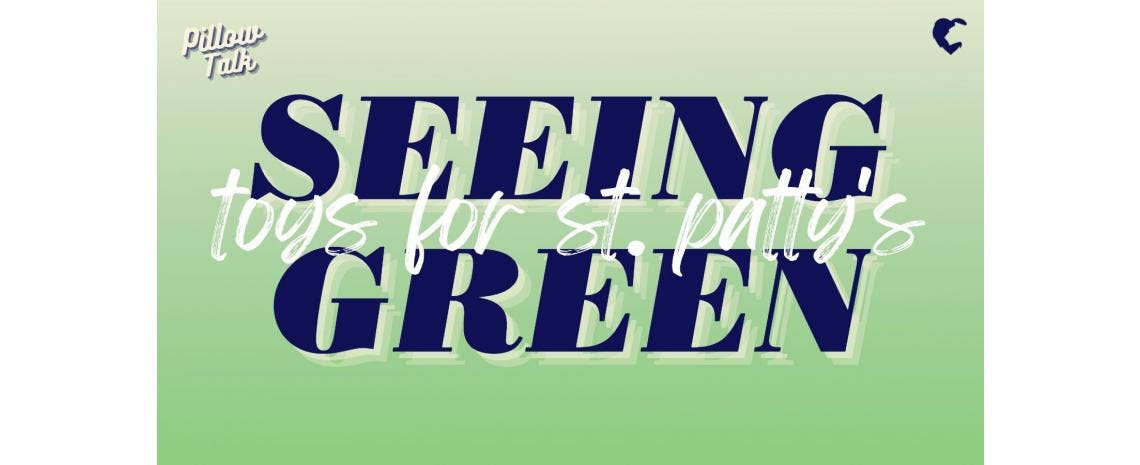 Seeing Green
Green sex toys to celebrate St. Patrick's Day!
It's almost St. Patrick's Day! We have you covered if you're looking for some kinky ways to celebrate. Here at Lion's Den, we thought it would be cool to use St. Patrick's Day, a green-themed holiday, as an opportunity to showcase some green sex toys. So we created a roundup of some green sex toys for you to use as a well to celebrate.
The California Dreaming Sierra Sensation is a naughty travel-size rabbit that is ready for your next adventure with a flexible teaser, 10 sensational vibration functions, and a thrilling Power Boost action. It has a contoured teaser tip and curved shaft that is made for caressing internal and external pleasure points. It also has an ultra-smooth surface that is covered in premium silicone with sleek easy touch profile buttons.
The Sundaze is not just a vibrator: it's a Pulse Vibe that uses patented new technology to move not just from zingy to rumbling vibration, but also light tapping. The Sundaze will turn you on like nothing else with its pulsing and stroking motions, and hands-free thrusting for internal or external massage. This thrusting vibrator is good for sensitive people and also for power lovers. The Sundaze also lets you can save your favorite arousal setting, so you can start with it every time. The Sundaze is an especially great toy for someone who wants to get turned on more easily with a partner or who's noticed a change in their arousal due to age or stress. Try the tapping and pulsing settings, which help awaken your nerve endings and boost blood flow, making you feel more aroused and more sensitive.
With Electra Play Things from NS Novelties, looking good and feeling amazing goes hand in hand. The Electra line is made of synthetic materials, meaning it's incredibly easy to clean and durable for a comfortable experience. The Electra paddle is a light impact tool that can still offer a nice firm whack. Because it is relatively padded, it's still got a bit of thud along with its sting! Super easy to use Anytime, Anyplace, and Anywhere! It's even small enough to bring with you on the go.
Lucky Clover Gem Anal Plug is the most St. Patty-ish toy on the list. This petite metal anal plug has a clover jewel design at the base. Pop this lucky charm in your booty to appreciate the comfortable weight inside your body, thanks to the nickel-free aluminum alloy material. Great for temperature play, you can warm it or cool it in water before insertion. The attractive shape of the base will surprise your partner when you bend over. Shake that shamrock! Use with any lubricant of your choosing and clean after use with mild soap or toy cleaner.
The Noje Fauna is a 4.75-inch pleasure wand that packs a lot of fun. The rechargeable Fauna features 10 deep, rumbly vibrating functions consisting of 5 speeds and 5 unique rhythms. It's made of body-safe ABS plastic, with a 100% silicone sleeve. Waterproof, suitable for bath and shower play, and easy to clean. The magnetic, USB charge cable clicks on, and the light indicator tells you when your toy is fully charged and ready to play! Fauna also comes with different attachment heads for exploring new sensations! Noje is the Swedish word for pleasure and the Noje Fauna lives up to its name.
Tor 2 is the world's first waterproof rechargeable couples ring boasting more powerful vibrations than any product of its kind. Worn on a penis, its smooth silicone design comfortably fits all sizes bringing a long-lasting presence. The fully waterproof design also features an easy-to-use control interface and 6 stimulation modes always delivering the most thrilling sensations in bedroom play.