LGBTQ+ Glossary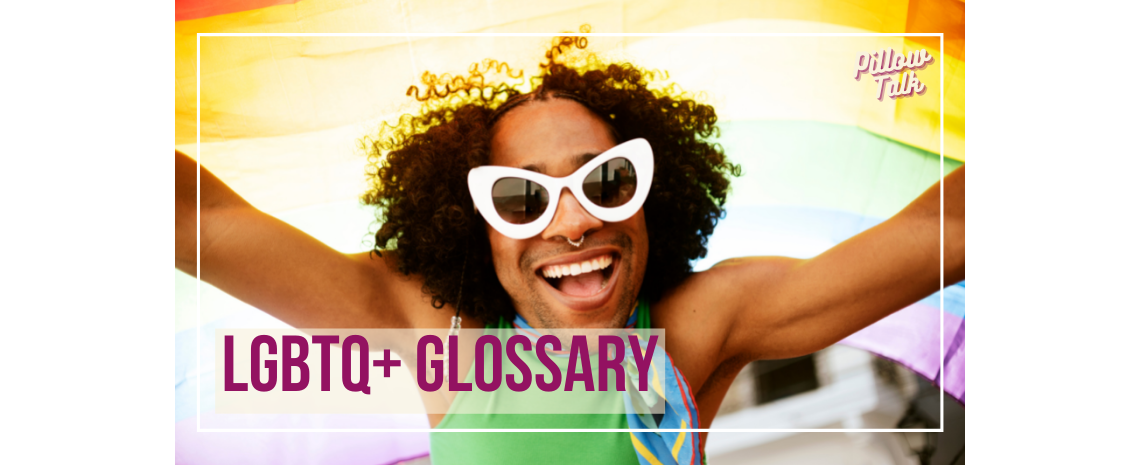 LGBTQ+ Glossary
Terms to familiarize yourself with the LGBTQ+ community
Most people are familiar with the acronym LGBTQ+ or Lesbian Gay Bisexual Transgender Queer Plus.
That plus is a verbal stand-in for other queer identities, but even within the more well-defined terms, there is still plenty of room for a variety of different identities. The LGBTQ+ community is a spectrum of beautiful, diverse identities. So whether you're just beginning to explore your sexuality or looking to expand your knowledge of yourself, we've got you covered. We're breaking down some common queer terminology to help you expand your vocabulary.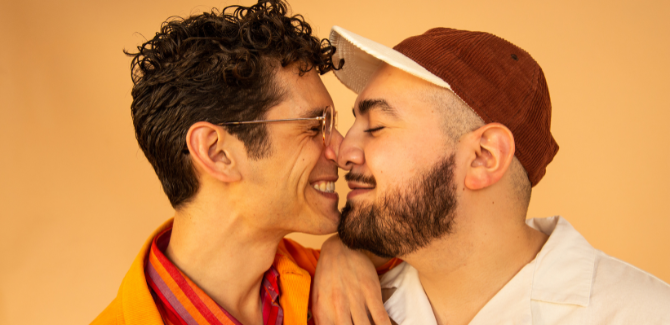 Sexual Identity
Your sexual identity doesn't necessarily have to be sexual. Simply put, it's the kind of person you'd like to be in a relationship with. Your sexual identity is an inherent and immutable understanding of what you are attracted to emotionally, romantically, and sexually.
Note from Human Rights Campaign: an individual's sexual orientation is independent of their gender identity.
---
Editor's Note: How a person chooses to identify is deeply personal and THEIR choice. There can be subtle differences between identities that may not be clear to cisgender or heterosexual identities. The important thing to note is that when someone tells you their identity, orientation, pronouns, etc., you do not correct them or ask them to elaborate on their sex life. You simply say, "OK," and accept that it is not about you or anyone other than that individual.
---
AROMANTIC: Someone who does not experience romantic attraction. Aromantic people are still capable of emotional intimacy but do not experience or desire romantic intimacy with a partner.
ASEXUAL: Someone who does not experience sexual attraction. This person may, however, enjoy the sensation of sex.
BISEXUAL: Someone who experiences sexual, romantic, and/or spiritual attractions to people of masculine and feminine identities. Bisexuality is commonly misinterpreted as an attraction to only cisgender people, but a bisexual person might be attracted to anyone of any gender.
GAY: Someone, usually a person identifying as a man, who is romantically, sexually, and/or spiritually attracted to people of the same gender or gender presentation.
LESBIAN: Someone, usually identifying as a woman, who is romantically, sexually, and/or spiritually attracted to people of the same gender or gender presentation.
PANSEXUAL: Someone who experiences sexual, romantic, and/or spiritual connection with people of any gender. This term is similar to—and sometimes used interchangeably with—bisexual.
QUEER: This term is often used as an umbrella term to describe anyone who experiences a sexual identity outside of heterosexuality. This term has some overlap in gender expression. Human Rights Campaign explains that: "this term was previously used as a slur, but has been reclaimed by many parts of the LGBTQ+ movement."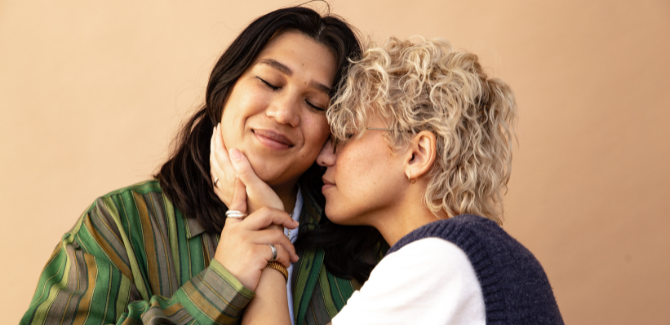 Gender Identity
We'd like to begin by explaining that gender is a set of social, physical, psychological, and emotional traits meant to align with feminine, masculine, or other forms of expression. In society, gender has evolved with time. And as time passes, the societal conception of gender will likely evolve as well.
AFAB: This acronym stands for Assigned Female At Birth, meaning the person was born with female anatomy.
AMAB: This acronym stands for Assigned Male At Birth, meaning the person was born with male anatomy.
ANDROGYNOUS: This style of gender presentation is not exclusively masculine or feminine, sometimes combining aesthetics of the two or designing a unique appearance and style of indeterminate gender.
GENDERFLUID: Someone who identifies their gender as a dynamic and evolving concept. Their alignment with one particular gender may change over time.
NON-BINARY: Someone who does not identify exclusively as a man or woman. They may choose to exhibit a masculine, feminine, or androgynous gender presentation or a combination of all three.
TRANSGENDER: A person who identifies as a different gender than the one they were assigned at birth.
TWO SPIRIT Spirit: A gender identity in Native American culture that describes people who have both a male and female spirit within them.
You can read more about sexual and gender identities at Lambda Legal.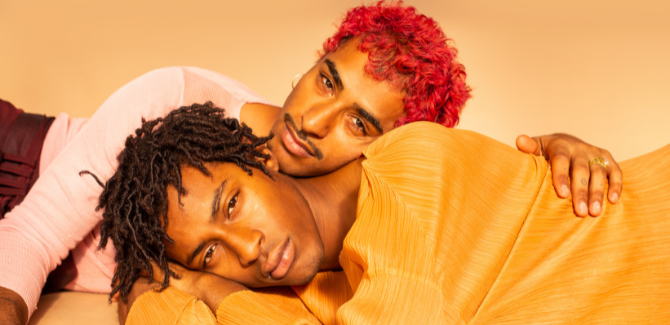 Bonus Slang
Now that we've gone over the basics, we'd like to clue you into some slightly more specialized terminology in the LGBTQ+ community. You may have heard these terms before and wondered what they meant or if they applied to you. With a rich history, the marginalized community has invented a language all its own to describe the nuances of their sexual and gender identities.
BEAR: A gay man with abundant facial/body hair and a cuddly body. This type of person is usually very attuned to their masculinity.
BUTCH: A person, usually a lesbian, who chooses to operate with a masculine presentation and social style.
CHAPSTICK LESBIAN: A lesbian person who does not present as overtly masculine or feminine but often skews more feminine in presentation and social style.
FEMME: This term describes people, usually women, who present themselves with traditionally feminine characteristics. We are starting to see men or people who identify as men using the term "femme" to describe how they present themselves or express themselves in society.
FEMMEBOI: An effeminate man who takes pleasure in their femme presentation and social style. Not all femme-presenting men use this term.
LIPSTICK LESBIAN: A lesbian person who exhibits many feminine gender attributes, such as wearing make-up, feminine clothes, and operating with a feminine social style.
MLM: No, not multi-level marketing. This term means Men Loving Men. This is a common descriptor in film and books and often a tag in fanfiction. It can also be seen in advertisements for men seeking other men for romantic or sexual connections.
SAPPHIC: Another term for lesbians or lesbianism.
STUD: A masculine, queer woman from Black or Latinx communities.
WLW: This acronym means Women Loving Women, which is often used as a descriptor for sapphic content.

Montclair State University's LGBTQ Center has compiled a broad list of queer slang, which you can read more about here.