Pipedream Fantasy For Her "Her Ultimate Pleasure" Review
Pipedream Fantasy For Her "Her Ultimate Pleasure" Review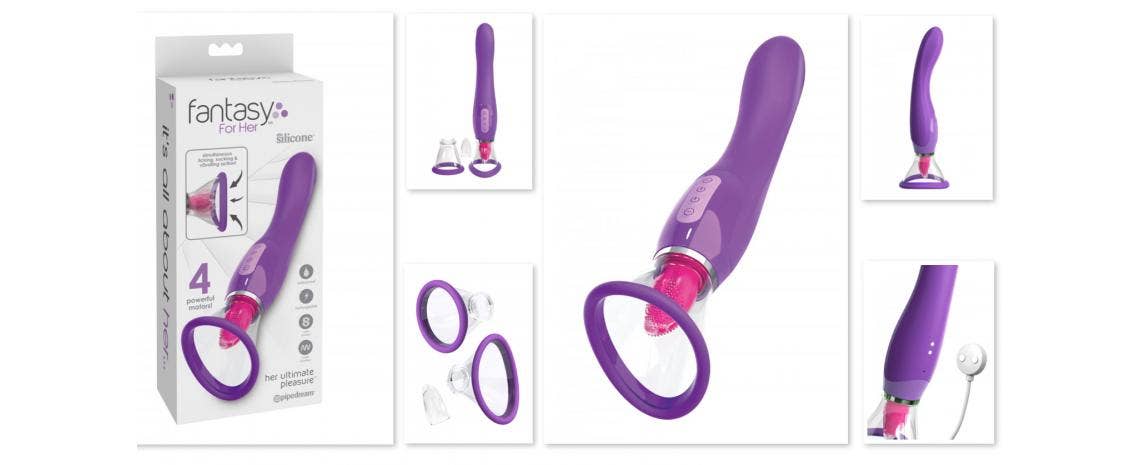 I once heard somewhere that a jack of all trades is an expert of none. And in my line of work as a sex toy reviewer, a sex toy that aims to do too much may end up doing nothing at all. So when Pipedream came out with the Fantasy for Her - Her Ultimate Pleasure, I had some reservations as it literally does too much. Luckily, they got it right with this powerful yet compact tool made just for her. Let's take a more in-depth look.
Features
Waterproof
Rechargeable
Made of Silicone and TPE
4 Powerful Motors
Comes with textured tongue sleeve
Comes with 2 suction attachments
10 G-spot Vibration Patterns
3 Suction Patterns
7 Tongue Motion Vibration Patterns
Measurements
Length: 10 inch (overall), 3 inch (external clitoral stimulator)
Insertable Length: 5.375 inches (handle)
Width: 1.5 inch x 1.3 inch (tip), 1 inch to 1.5 inch (shaft), 1.1 inch (external clitoral stimulator), 2.75 inch (suction cup base)
Tiffy's Review
The Fantasy for Her - Her Ultimate Pleasure is many things which is why you can't really call it just one thing. It is dual-ended, has a longer side that has vibrations that can offer both g-spot and broad clitoral stimulation. The other side has a flicking tongue that can be used for clitoral stimulation and a suction feature that comes with 2 suction attachments: one that can be used on the labia and the one that can be used anywhere in the body. The whole package is quite small and compact for a toy with so many features, and the silicone is matte and silky smooth. Did I mention that it's also rechargeable and completely waterproof? Yea. That part.
Of all the features, the pulsing suction and the flicking tongue is my favorite. The flicking tongue because it feels lovely on the clit. You can hold it, so the flicking motion is going up and down, or turn it to the side so that the flicking from left to right. I also like that it comes with a textured sleeve for the tongue that adds a realistic feel to the experience. There aren't many sex toys on the market are both rechargeable and can be used as a pussy pump. The Fantasy for Her - Her Ultimate Pleasure's suction features allows you to enhance stimulation to your labia by using it to make the area more sensitive. Because it comes with a smaller suction attachment, it can be used on different parts of the body and partners.
Tiffy's Tip: Always remember never to use a silicone-based lubricant with silicone sex toys as it can break down the material of your toy and void the warranty. Always do a spot test when using a new lubricant and sex toy.
Final Thoughts
This vibe is great for anyone who wants to experience a ton of new sensations in one item or is looking for a toy that can be used with multiple partners who have different needs when it comes to stimulation. No the case, the Fantasy for Her - Her Ultimate Pleasure most definitely has something for everyone.
If you like what you've read here, check out more of Tiffy Kinks writing at her sex blog Aquakink.com.
Twitter @Theaquakink
Enter Code AQUAKINK15 at Checkout and Take 15% OFF Your Purchase!