10 Bachelorette Party Games and Ideas
10 Bachelorette Party Games and Ideas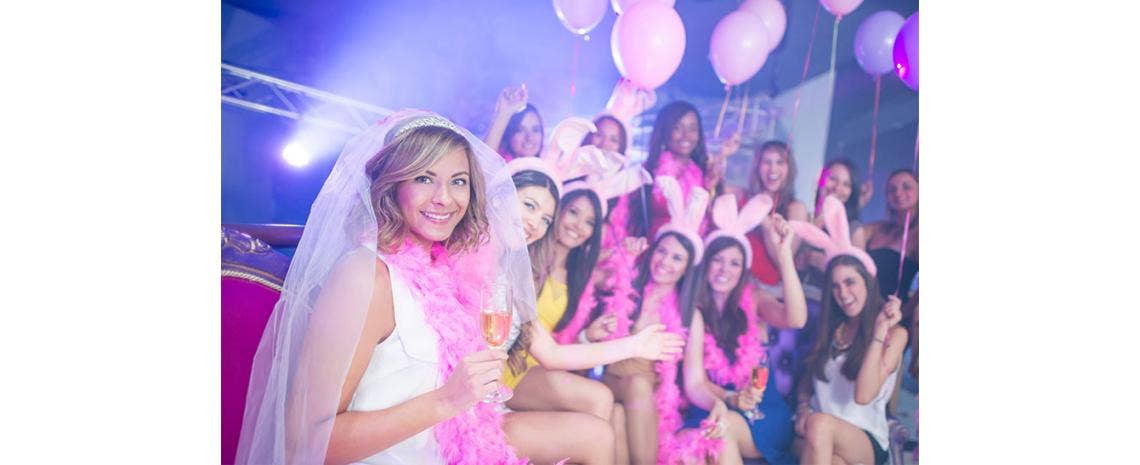 It's your friend's final night out on the town as a "single" lady. Looking for some inspiration to make this night one that she will never forget? Here are some suggestions to make the Bachelorette party one of the best!
Make your party themed
Ever wanted to have an excuse to go out on the town in hula shirts when it's not halloween? Themed parties always spice things up and give some creativity to an otherwise average party. Think of things the bride-to-be loves. Does she have a movie she is obsessed with? Or a certain town or city? Make the party themed like a Mean Girls party, Beach party, country party or playboy bunny. Use your imagination and have fun with it! The bridesmaids will thank you.
2. Dress for success
Even if you don't have a themed party, that doesn't mean that your bachelorettes shouldn't match. Clothes are great things to invest in, because not only will they single everyone out in the group and look great in pictures, but they will also serve a wonderful reminder of your night out! Have everyone wear the same color, decorate your shirts to match with the bride-to-be's name on it. Have a list on your shirts of every drink every lady needs to consume that night and cross it off as they are consumed for an interactive dress-up.
3. Play Mad-Libs
Mad-libs are interactive stories where you add words to a pre-written page. When prompted, you insert a specific type of word (noun, adjective, adverb, verb, etc.). One all the words are added, the story is ready to be read and laughter will follow! Elect one person to be the narrator and go around the room, asking each bachelorette to add one word. Give extra points for creative and random words, and the dirtier the better! Once you're finished, read the story out loud. This is great to start the party off or to finish for the night on a high note. The stories are mostly free and there are a lot related to weddings and marriage when searched on the internet.
4. Play drinking games
Never underestimate the power and fun of drinking games for pre-gaming! Kings, High or Low, Questions, Never Have I Ever, Cards Against Humanity, Flip Sip or Strip, Quarters, and Flip Cup are just a few. Want to add even more fun? Bring the game with you to the bars! Purchase a deck of cards you don't mind losing and bring them with you to the bars. Try to target ones that have booths or tables and invite strangers to play with you! Maybe even convince a few cute ones to buy the drinks for the next round for the bride-to-be!
5. Penises and Vaginas Everywhere
This is one of the few nights it is socially acceptable to run around with penis or vagina themed everything. From vagina candy to penis straws, blowup penis sword fighting to vibrators, penis crowns and more, anything that you can imagine probably exists out there for your amusement and giggles.
6. Name that drink
Find out which bachelorette knows her drinks the best. Elect a narrator to read ingredients for classic drinks and have the girls guess what the name of the drink is, and anyone who gets it wrong or can't answer as to drink. This is a great pre-gamer and great way to break the ice.
7. Guess Who Panties
Have every bachelorette purchase lingerie for the bride-to-be and lay them all out on a table. Have the bride-to-be look at all the lingerie and guess who bought her what. This will bring laughter and gives the bride plenty of fun, dress up for the honeymoon.
8. Bachelorette Party Themed Toys
There are plenty of bachelorette party themed toys and games roaming the internet. There are Bachelorette Dice, card games, penis pinatas, and many more. These are great ways to make the event special and pull out for some fun memories later.
9. Go out on the Town
After all the drinking, pre-gaming, and penis cakes are consumed, it's time to go out and let the bride-to-be have a final girl night with no shame! Give her a bride sash and make her wear a tiara or veil and head out! Head to the local bars, strip clubs, casinos, concerts, karaoke or drag shows. She will have fun with the attention! Take it a step further and keep $1 and $5 with you, and pay cute strangers to give the bride-to-be some 'special' attention. They may even do it for free!
10. Make It All Day
Bachelorette parties don't have to be just during the evening. Make the party a full day affair. Take the girls out to a wine tasting, have them go to the beach or pool, create a spa day of relaxation or salon day to get hair ready for the night out. Maybe the bride-to-be has a bucket list that she's talked with you about like skydiving or going on a hot air balloon. Does she like to be outside? Go take a hike with the girls, go skiing, or play volleyball. Lessons are also a great way to bond a group, like cooking lessons, dance classes or stripper pole dancing lessons.