Plaid Is Sexy - Fantasy Lingerie PLAY Schoolgirl Set
Plaid Is Sexy - Fantasy Lingerie PLAY Schoolgirl Set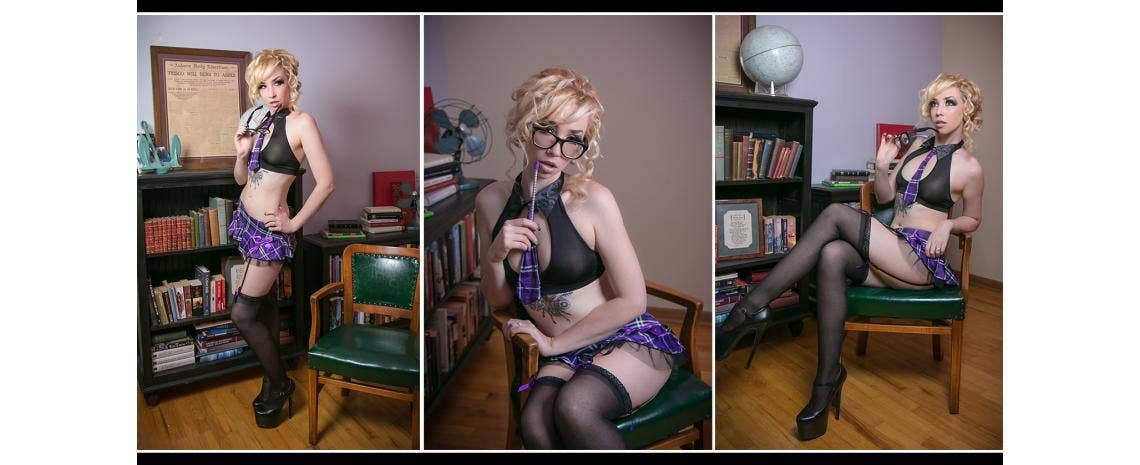 Plaid is Sexy
BRAND: Fantasy Lingerie PLAY
ITEM: PL1702 Student Body Schoolgirl Set
SIZE PURCHASED: O/S
SIZE AVAILABILITY: O/S, M/L
My favorite time of the year is upon us: Halloween! And that means costumes; but not just for parties and to get candy…but also for the bedroom!

This month I checked out another set from Fantasy Lingerie; this item was from their "Play" section. It includes a mini plaid skirt (with garters), a collared halter top with an attached tie, and a matching g-string.
I'm always skeptical when it comes to sets with a "one size fits all" or one that comes out of a box - this set was both. And unfortunately the usual happened: this set did not work well for me.
Whereas the halter is soft and stretchy the bra hooks and elastic band on the back weren't doing their job. I swam in this top and had to actually tie the bra hook straps to make the halter fit (not exactly sexy). Despite the halter malfunction my favorite aspects were the matching plaid tie and skirt; and I adored the skirt bows with the soft tulle underneath!
But of course my man was very excited to have this purple plaid ensemble added to our goody drawer (and let's be honest: this one was all for him)!

So let's talk a little bit more about my likes and dislikes of this playful set:
S – Sexuality This set gets an A+!
Not only is this a classic/iconic "naughty" schoolgirl look but it's got upped sex appeal with a crop halter AND garter straps!

C - Comfort I'm going to have to give the comfort on this a B-
Having to tie the halter in the back was as uncomfortable as it was sexy. I felt a little like Igor with the lump on my back and I certainly wouldn't want to go bump in the night with that poking me! However, the soft stretchy fabric is such a comfort boost for this set!

R - Reliability This set is getting a C for reliability.
After looking the set over I noticed a lot of loose stitching on the skirt. I also noted the material is pretty thin and where that is sexy…it doesn't bode well for durability. With those things in mind, I'm not sure how long this set will withstand runs through the laundry*…or between the bed sheets.

A - Affordability At the cost of $29.99 I have to rate this a C.
There's not much to this look and from what I mentioned above, the quality wasn't amazing.

P – Practicality A-, this piece is perfectly practical for play in the bedroom!!!
-But not so much in the laundry room. This piece is hand wash only and with how much use I can see it getting, hand washing is NOT practical for this woman.
Overall I am happy I have a fun playful look to add to my collection and would certainly consider getting another playful look for my playmate. Talk to you sexy witches (see what I did there?) next month!
Written by: Lyn-Eliz Bergs
Photos by: Modern Muse Photography
Purchase this look and other great things from Lion's Den and save 15% when you use the code: LadyLyn