Hello, Nurse! | Fantasy Lingerie "Sedate Me Nurse Costume Set"
Hello, Nurse! | Fantasy Lingerie "Sedate Me Nurse Costume Set"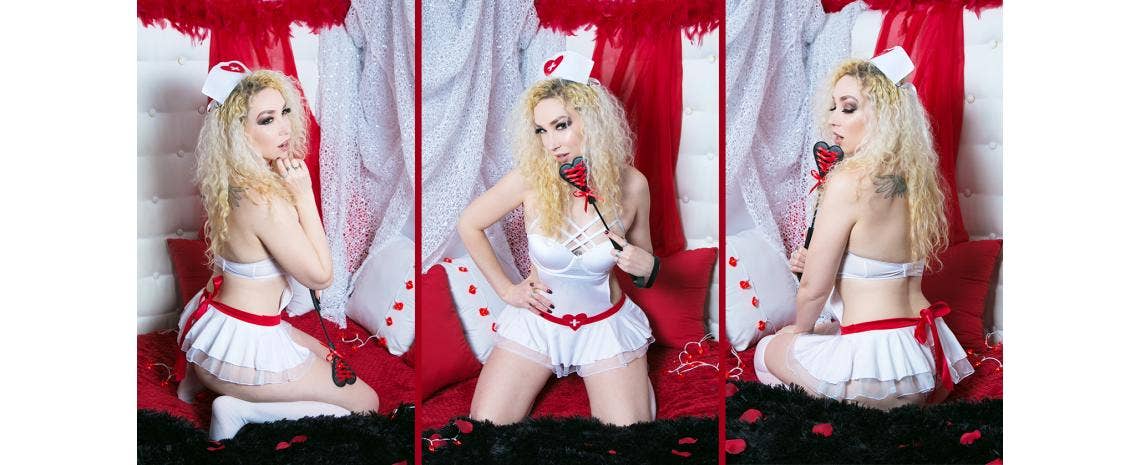 Hello, Nurse!
BRAND: Fantasy Lingerie
ITEM: PL1803 "Sedate Me Nurse Costume Set"
SIZE AVAILABILITY: S/M-L/XL
Valentine's Day is here again! And what better way to spice up the bedroom than with a little additional costume fun?
Lingerie is generally my go-to for these articles but I wanted to change it up a bit for some of you out there who are looking to add some sexy costumes to your bedroom play. Also, I just could not pass up this fun and flirty nurse set - I love the heart details throughout and the adorable nurse cap and panties that are included!
S - Sexuality
This set is sexy and very flirty so I'm scoring it as an A. Added sex appeal (to me) is always more lace or sheer fabrics and this only had the sheer fabric under the tie skirt piece. However, the bra cage cross straps are a nice additional sexy detail I enjoy!
C - Comfort
Mmmkay, this is where things weren't so great with the set. I'm rating it a C- The main reasoning for this is the bra. Once again, the two-size fitting option strikes out. The back closure was far too large; the photographer and I had to tag-team getting it to even stay on me. My suggestion to companies that want to use the two-size fitting option is that they add several more hook clasps so less busty/smaller-framed babes can still fit into these tops. Not all of us have those rockin' adult film star ta-tas!
Also, there was a slight annoyance with the center fabric piece that connects the bra to the tie skirt…it was too long (which is impressive for someone with as long a torso as mine)!
R - Reliability
With how delicate this fabric is, I'm rating the reliability as a solid C. I feel that perhaps, if the nurse had a slightly eager patient, the fabric could easily tear. Or, if this is not washed on cold and then left to dry, things may tear or fray.
A - Affordability
The Lion's Den price on this piece is $32.99 so I'm rating this a B-. Basically this is quality versus price point in my opinion. Even if this is aesthetically pleasing, the quality is low. I probably would not buy this again for anything more than $25.
P - Practicality
For bedroom play practicality, I'm awarding this another B- Mainly for the delicacy of the fabric. I can only see this lasting a few Valentine's Days or maybe a week or two of passionate play.
All in all, I loved the overall look of this costume play piece but I am concerned with how long it will last. It's still a nice gift to change things up for you and your significant other on this Valentine's Day. Until next month XOXOX
Written by: Lyn-Eliz Bergs
Photos by: Modern Muse Photography
Purchase this look and other great things from Lion's Den and save 15% when you use the code: LadyLyn