The Bedroom Lingerie Collection - Fantasy Lingerie's Premier Hanging Collection
The Bedroom Lingerie Collection - Fantasy Lingerie's Premier Hanging Collection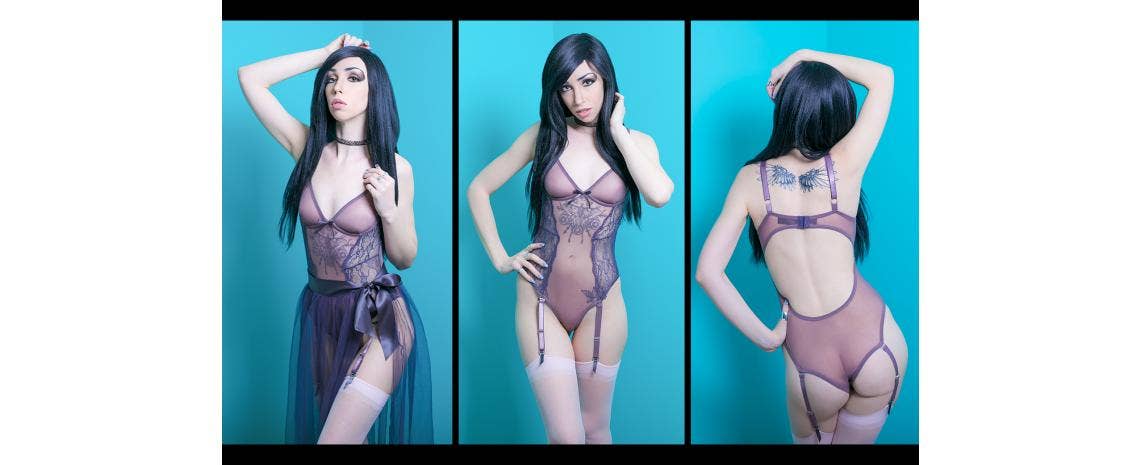 What's the most important thing to you when buying a bra and underwear? Do you go for the most expensive name brand or do you just want something that will do the job and hold the girls in place and keep you from going commando another day?
I know I am a little bit picky when it comes to wearing a bra and underwear because - I'll be honest: I hate wearing them most of the time! Scientists are proving more and more that underwire and push-up bras are unsafe and can lead to misshapen breasts, muscle deterioration, and poor posture. And below? Panties; well…your downstairs needs to breathe – any OBGYN will tell you it's best when there's lots of airflow down under. But let's also be real: it just isn't practical in our everyday lives to live like the Amazonian women Diana would want us to be. But we also aren't made of the glistening gold coins Victoria thinks we are either – and that's no secret.
So exactly how do I function in a world where I have so many choices of bras and panties but so many needs from such intimate items? Well my wallet primarily dictates that - but I also use my feminine wits:
It's called the SCRAP rating. It's how I rate all my lingerie. And how I'll be rating them in my blogs here!
S - Sexuality C - Comfort R - Reliability A - Affordability P – Practicality All my lingerie (from this blog) is from Lion's Den. They have a variety of styles, brands, and prices. And they're definitely an alternative to high end lingerie boutiques.
So now that you know how things get strapped in, let's really get under the seams
BRAND: Fantasy Lingerie LINE: Premiere Hanging Collection ITEM: Nicole Teddy with Garters & Sabrina Tulle Maxi Skirt
Fantasy Lingerie's motto reads: "Sexy is for every body." With their lingerie designs, they hope to continue to inspire women to embrace their sensual side; something they've been doing now for 32 years! And I've got to admit, their lingerie is absolutely gorgeous! And in sizes for all body types! Usually
I find that if a company caters to plus size, I can't find anything. But I was in luck; I found a stunning teddy and skirt that matched!
I am a huge sucker for matching lingerie; especially f it's something I can wear around the house and feel like Marilyn Monroe in – this did it!
Sexuality A+
This made me feel Hella gorgeous! And even framed my tattoo nicely! I can't say it made my breasts look perky or larger (since this is simply an underwire) so it was a natural breast shape – though definitely sexy for a vintage look!!!
Comfort B
It fit me like a glove – something that a tall 5'7" girl has issues with. The lace wasn't itchy. But BOI!!! That crotch snap! I don't recommend wearing this all day. This is definitely sexy-time lingerie or something you'd only wear with a dress - not sitting for hours in! I remember why crotch snaps went out of style… The straps on this could be tightened in the front which made adjustments easy and they were thicker straps so less digging into my shoulders – always a plus!
Reliability A
Made out of mesh and lace (with materials nylon and spandex), this gorgeous teddy must be hand washed in cold and laid out to dry. The stitching is solid so it should last a good while if it's taken care of properly. The thicker straps also seem to be a great idea for longevity and reliability. The garment isn't flimsy and really does hold those (detachable) garters up firmly.
Affordability B-
The Teddy was $32.99 – the matching maxi of $22.99 sent me over what I'd normally like to pay for a matching set. But this is a Teddy! Something that's really hard to come by that is not made for my grandmother's taste. I was happy to splurge a bit, but would have liked to see a lower price point since, of course, I am getting that matching maxi skirt so I feel like a duchess while I drink my mimosas!
Practicality D+
Not a daily wear garment! Heck, It'd probably get annoying going pee the third time I had to unsnap the thing! I'd say perfect for a sexy date evening that's labeled as dinner and sex only so you're only wearing the teddy for 5 hours tops. Or it's practical for a fancy dinner party that doesn't have a lot of sitting (on account of those pesky crotch snaps). But I'd definitely not recommend your taking Fido on a walk through the park or running all your grocery shopping in it.
I am glad I own this piece. It does make me feel very sexy and I am sure I will find a place to utilize it outside of photo shoots. Worst case scenario: if I don't go to any fancy dinner parties or get my dinner and boom-boom – I'll always have my Sunday morning mimosa outfit where I can feel super sexy all morning before realizing Monday is less than a day away.
Written by: Lyn-Eliz Bergs
Photos by: Modern Muse Photography
Purchase this look and other great things from Lion's Den - Save 15% on your online order when you use the code: LadyLyn at checkout!