Holiday Gift Guide: Stocking Stuffers
Holiday Gift Guide: Stocking Stuffers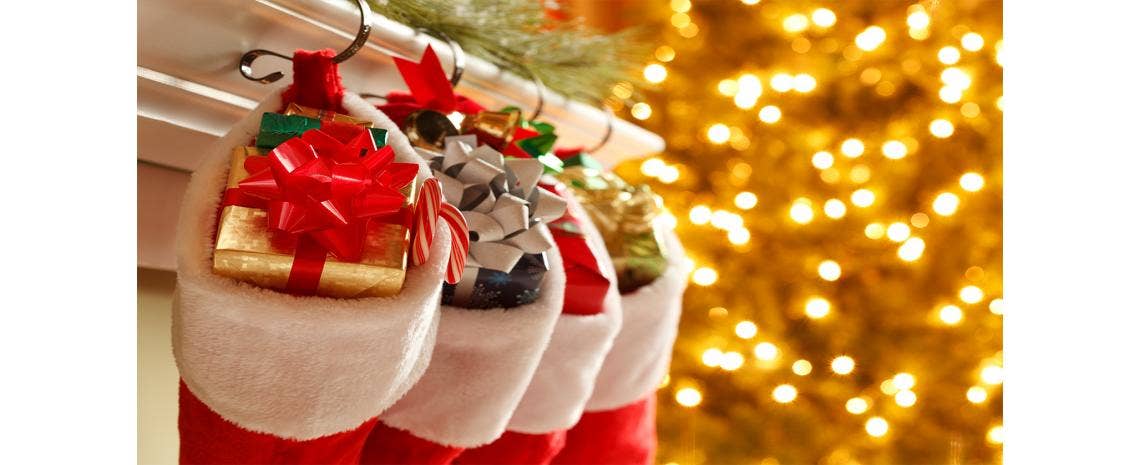 Stocking Stuffers
Looking for a little something to add some extra holiday cheer? These gift ideas make great naughty stocking stuffers and they're perfect if you're planning to do any traveling this holiday season. Plus, they're all under $25!
Jo Hyrid Lubricant with Coconut by System Jo
If you're looking for a new lubricant to help you slide into the New Year, the System Jo Coconut Hybrid is a great option! It's silkier than a standard water based lubricant so it will last longer and it's toy and condom friendly!
Shine Organic Toy Cleaner by Sliquid
After you've checked out our Holiday Gift guide, make sure you grab some toy cleaner to keep these new toys looking and feeling like new. As a plus, the packaging is so beautiful and discreet you can leave it on your bathroom counter and no one will be any the wiser!
Massage Candle by Kama Sutra
Give your love a good rub down after a long day with these sinfully fragrant massage candles. Just light the wick and 10-15 minutes later, you'll have a lovely pool of warm (not hot) massage oil to soothe away any aches and pains. The handle spout even makes it easy to pour so you don't have to worry about making a mess. Available in Tahitian Sandalwood, Tropical Mango, Coconut Pineapple, Island Passionfruit, and Mediterranean Almond
Vibrating Mascara by Screaming O
Got a lady in your life who is always on the go and values discretion? This vibe is a match made in heaven! This highly discreet vibe has three different vibrations and is perfect for travel; just throw it in a bag and go!
Comfortably Numb Throat Spray by Pipedream
PHOTO
If your partner or friend is wanting to up their BJ game, this numbing throat spray will do the trick! The numbing agent lessens the gag reflex allowing the user to go further than ever before. Available in spearmint, cinnamon, and mint chocolate.
The Fetish Coloring Book by Magnus Frederiksen
Got an artist in your life? This coloring book is 50 pages of erotic, sensual, and intriguing photos just waiting to be filled in! It gives a whole new meaning to "adult coloring book"!
Wine Scented Bath Bombs by Kheper
Everyone knows that one of the best ways to relax is with a bath and a glass of wine. So why not jazz up the bath with some wine scented bath bombs! Choose from three intoxicating flavors: Shiraz, Chardonnay, or Sangria.
Hex Condoms by Lelo
Flexible, thin, and strong, these condoms have gotten rave reviews for months. Truly a design and engineering marvel, these latex, honeycomb design condoms take protection to a whole new level!
Sex! Scratch Ticks by Khepher
Put your sack session to chance with these fun sex scratch off tickets. No need to worry; every ticket is a winner!
Easy Beat Egg by Tenga
For an on-the-go dude, these portable masturbation eggs are a dream! The soft skin-like texture and ribbed interior will take him to the next level. Available in over 15 different textures!
Cyberskin Renew Powder by Topco
If you picked up a Real-Skin toy this holiday season, make sure you get some toy powder to go along with it! This powder will keep the toy soft and help it last for as long as possible.
Liquid V for Men by Body Action
Up your dude's pleasure with this stimulating gel. Just a little bit and he'll be off like a shot!
Warm and Buzzy by System Jo
Enhance your every touch with this clitoral stimulating gel. This maximum strength cream will have her warm and buzzy all night long!