10 Deals You Shouldn't Miss During Black Friday and Cyber Monday
10 Deals You Shouldn't Miss During Black Friday and Cyber Monday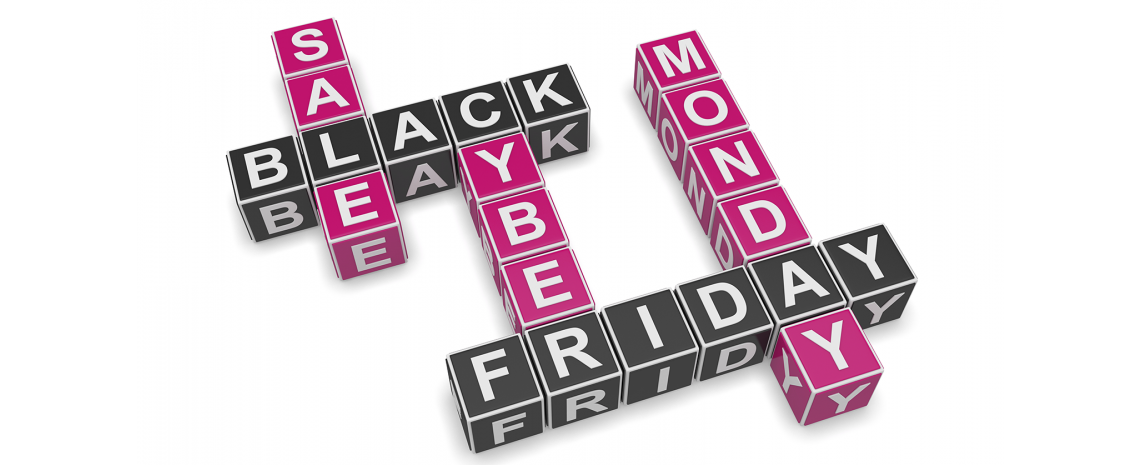 10 Deals You Shouldn't Miss During Black Friday and Cyber Monday
'Tis the season for savings. You've been good this year (almost anyways) and now that the Thanksgiving festivities are done, it's time to treat yourself to something well deserved. Whether for a friend, a lover, or for yourself, these items are sure things you don't want to miss out.
Check us out, but keep beware, these deals that you can't miss are only available for a limited time only:
Black Friday – November 29th – For in-store purchases only
8 AM – 12 PM – Take 50% off everything in the store
12 PM – Close – Take 30% off everything in the store
Cyber Monday – November 29th - December 2nd – offer valid online only
Take 15% off everything on our site *Excludes items currently on sale*
1. Scandal – Ignite your Passion
Made by CalExotics, this is a sexy collection you DON'T want to miss out on. Complete your naughty, lace vibe with these masks, lace hoods, double paddles, gags, bondage bars and more. Designed classy and gorgeous, this collection can put a little mystique into your play time. Both dark and alluring, these bondage toys are items not to be missed during this epic sale. Found both online and in store.
2. Magic Silk Lingerie – Dress Up the Fun Way
Halloween isn't the only time to play dress up. Make a bold statement and dress to impress. Your lover won't be able to keep their hands off you once you show up wearing these. Ranging in sizes, this lingerie collection is one that will last. Made for both design and comfort, these silk tops and bottoms are items to keep for a rainy day and a fun evening. Found in store only.
3. Men's Lingerie – Male Power
And who said that women are the only ones that get to dress up? Move aside, because it's time for you to strut your stuff. Your lover will be in heaven when they see you come out wearing one of these bad boys. From G-Strings to thongs, and from lace to mesh and everything in between, there is something here just for you to wear with confidence, ease, and all naughty appeal. Found both online and in store.
4. Chaiamo Vibrators – How To Get Your Rocks Off
Woah. These vibrators mean business. Elegant, highly powerful and crafted to absolute perfection, these vibrators by Rocks Off were made to drive you to your ultimate climax. Have we sold you yet? These come with 10 powerful vibration patterns, ensuring you'll find the perfect rhythm just for you. The velvet soft, body safe silicon will give you a feel of ultimate perfection. The bonus? Not only is this toy on the sale of a lifetime, but it's also 100% waterproof AND USB rechargeable. What are you waiting for? Found in store only.
5. Screaming O – Need We Say More?
Looking for a friendly, easy to use start in the toy game? The brand Screaming O has you covered. From vibrators, to cock rings, to sleeves and butt plugs, everything that you could want from the start is here and ready to please. Made friendly for all types of users, these smart, fun, playful designs are here to help you find a spark in the bedroom. For yourself or for someone else, either way someone will be smiling soon enough with these gifts aimed only to please. Found both online and in store.
6. Wicked Lubricant – A Must-Have Item
Let's reason with you, everyone deserves more lube. If it's a must-have, why settle for the mundane when you can have the best? Wicked Sensual Care lubes are one of the best on the market, and now going on sale! Not only are they long lasting, but they offer a wide variety of fun options that work with ease! From coolingand warming lubes, sensitive formulas, to tasty flavored lubes that go above and beyond like Salted Caramel, Vanilla Bean, Pink Lemonade and many more, there's something here for everyone that's sure to please. Sneak one of these into someone's stocking, and they are sure to return the favor later. Found both online and in store.
7. Guide to Senior Sex – Jessica Drake's Guide to Live Your Fullest Life
We age like fine wine, and it can get better as we go along. Our bodies start to change over time, and with that comes some new adjustments. However, that doesn't mean the party has to end at a certain point, it just takes a new perspective. With the right information, an open attitude, and a spirit of adventure, older-age sexuality can be hotter and more satisfying than you ever imagined. Get this gem by Wicked Pictures and Jessica Drake for your guide to passion, pleasure and romance.Found in store only.
8. System Jo – We Have This Covered
If you thought lubricates were boring, last minute thoughts, rethink again. System Jo designed high-end, elegant and long lasting lubricates and other solutions that work as AMAZING stocking stuffers and will literally change the way you have sex. Made for a variety of needs from flavored lubricants to arousal gels to massage oils, these take your playtime to a whole new level of fun and excitement. Found both online and in store
9. EveryGirl – The Fun New Rabbit Toy by Rocks Off
Every girl has a desire that can come true with this personal rabbit. Created with body-safe velvet soft silicon, this rabbit is an ultra-elegant and refined toy that is sure to please. Powerful dual independent motors stimulate both the clit and a shaft motor. Did someone say please? Because they will be soon with this 100% waterproof, rechargeable toy. Santa's coming home tonight! Found both online and in store.
10. O-WAND – Designed for your Personal Pleasure
Who wouldn't want something that's designed simply just for your personal pleasure? The top of elegant design, the O-WAND is not just a vibrator, but an experience bundled into one sleek and seductive package. Luxurious and easy to use, this rechargeable personal massager is all you need for a back-arching, pleasure ride. Fully waterproof and with a travel lock, this alluring toy was made to travel in style. Try this one out, only found in store.
Whichever you choose, you will not be disappointing in your purchase. Now go out there, and find something that will inspire a passion, pleasure and romance filled night.