Wicked Aqua (Flavored Water-Based Lube)
Introduction: Light, silky and non-sticky, this water-based lubricant is a staple in the bedroom. It can help stimulate foreplay and enhance sensations for intercourse with your partner. The flavors are juicy and delicious without an aftertaste.
Water-based

Body safe

Latex-friendly

Paraben-free

Sweetened with Stevia

Long Lasting

Vegan – No animal by-product or testing
Flavors: Candy Apple, Cherry Cordial, Vanilla Bean, Pomegranate, Salted Caramel, Mocha Java, and Cinnamon Bun.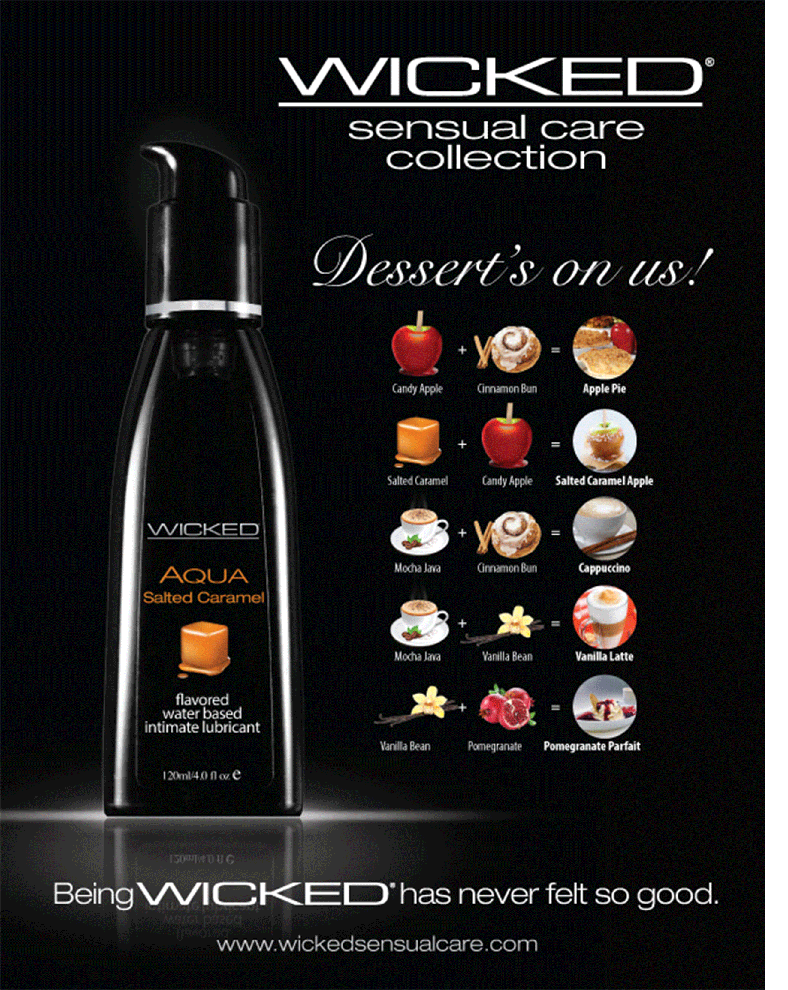 How it works: The elegant features of the black, sleek bottle offer a pump at the top that can administer perfect amounts of sensual flavor to an area you desire. Hold the pump over the area or administer to your hands and smooth around desired area. Let your mouth and tongue do the rest.
I've tried a few different flavored lubes through my years of sexual activity. What I've typically discovered is most of the flavors of generic lubes are either too intense, too artificial, or don't last long enough.
I tested out Wicked Sensual Care's two newest flavors; Cherry Cordial and Cinnamon Bun. At first, I was a little put off by the unusual flavors, but after testing both, they are truly my new favorite flavored lubes!
The first one I tried was Cinnamon Bun. The flavor is subtle, but in a good way. I can honestly say that it truly tastes like a cinnamon roll! It has a sweet, warm cinnamon flavor that mixes very well with the warmth of your partner. It's my favorite of the two. When I used it on my partner's penis, it erased his skin taste so I felt like I was sucking on a yummy cinnamon roll lollipop! The flavor does go away after about 5-10 minutes, so reapply as needed.
Now, it was time to try the Cherry Cordial! I was more nervous about this one because I truly dislike cherry-flavored items. I've never liked them. When I tasted the lube, the strong cherry flavor hit me at once. For a second, I didn't like it. But then, the chocolate comes through and it mellows out. I do enjoy the taste of the Cherry Cordial after a second, because the secondary chocolate flavor is so good. But! When I used this in the bedroom with my partner, it became another favorite because the salty taste from my partner's skin mixed WONDERFULLY with the Cherry Cordial flavor. It's a mix of salty, sweet and savory all in one. I was so surprised by how much I liked this one!
I've always worried about letting flavored lube get close to my vagina because I'm very sensitive, and prone to "issues". However, Wicked Aqua Flavored Lubes caused no issues and they are my go-to now! These products from Wicked have erased all my fears of flavored lubes and are on the menu almost every time my partner and I decide to play!
Rating: 10/10
Suggested Items to Pair:
Bondage Ties

Bullet

cock ring